28th May 2019 at 9:45 am

-

3:30 pm
1. Wooded Hills to the Ingrebourne Valley
---
Land of the Fanns 100 Stories
Walk 1: Wooded Hills to the Ingrebourne Valley
Linear Walk
Tuesday 28th May 2019
Book a place here.
Introduction
This walk is part of the Land of the Fanns 'Community Mapping – 100 Stories project' led by Kinetika, which, with local communities, will identify and celebrate 100 stories gathered in response to the Land of the Fanns landscape areas, and make 100 silk flags using Kinetika's batik silk painting process. The project will culminate in a 100 Stories Walking/Arts festival in Summer 2020.
The walk route has been devised by local volunteers to inspire stories, memories and responses and during the walk we invite you to do any or all of the following
Enjoy the walk, meet people, connect with Land of the Fanns and get to know the area if you are new to it
Think about your personal connections to the landscape en route
Share stories about the area
Capture stories or themes through informal writing and drawing activities
Record the experience through taking photos on smart phones or cameras
Walk description
The walk starts at Bedfords Park Visitor Centre where there will be an introduction to the Community Mapping project by Kinetika.  The walk then begins with a tour of the Bedfords Park Walled Garden with Lois Amos (Secretary, Friends of Bedfords Park), then joins the London Loop at Havering-atte-Bower where spectacular views across London can be seen.
Passing The Deer's Rest (recently renamed from The Bear Pub), here the walk can be split and you can either join or leave hear around 12:30pm,  the route continues to Dagnam Park, or The Manor, as it is locally known. This site covers 345 acres of open fields, scrubland and forests and 25 ponds, a large herd of deer and the remains of the demolished Dagnam's Manor House. After stopping here for a picnic lunch the walk then continues south towards Pages Wood, passing through Harold Court Woods. Here Simon Elgar (Forestry England) will give a tour of Pages Wood including the new woodland and wetland nature trail which follows the Ingrebourne River.  The walk will finish with a summary from Kinetika at Harold Wood Cricket Club.
Registration for walk: 9:45 am
Walk starts: 10:00am
Meet: Bedfords Park Visitor Centre
Walk ends: 3:30 pm
Ends: Harold Wood Cricket Club
Duration: 5.5 hours. (Walking for 3-4 hours)
Distance: 7.5 miles
Grading: Moderate
Walk leaders: Ian Seabrook.
Bedfords Park: Lois Amos, Pages Wood: Simon Elgar
Parking
Free Parking at Bedfords Park, Pages Wood and Harold Wood Park
Train stations
Train station at the start: Romford (RM1 1TU), Gidea Park (RM2 6BX) or Harold Wood (RM3 0DA) approximately 3 mile walk to Bedfords Park.
The nearest train station at the end of the walk: Harold Wood (RM3 0DA) approximately 0.7 mile walk from Harold Wood Cricket Club.
Buses
375 from Romford to Havering atte Bower; 256 between Harold Hill and Hornchurch via Harold Wood; 294 between Havering Park and Harold Hill via Romford, Gidea Park and Harold Wood
Accessibility
These walks are of different lengths and on different terrain. Some are mainly on footpaths, and other mainly on footpaths where ground may be uneven.
This walk is not suitable for wheelchairs.
About the Land of the Fanns Community Mapping Project: 100 Stories
The 100 Stories programme will work with local communities and individuals of all ages across the Land of the Fanns area to identify and celebrate 100 stories gathered in response to the Land of the Fanns landscape areas, and make 100 silk flags using Kinetika's batik silk painting process. The project will culminate in a 100 Stories Walking/Arts festival in Summer 2020. Alongside the community mapping and arts festival will be a creative skills training programme including interpreting the landscape through art, creative writing, filming, photography and walk leader training.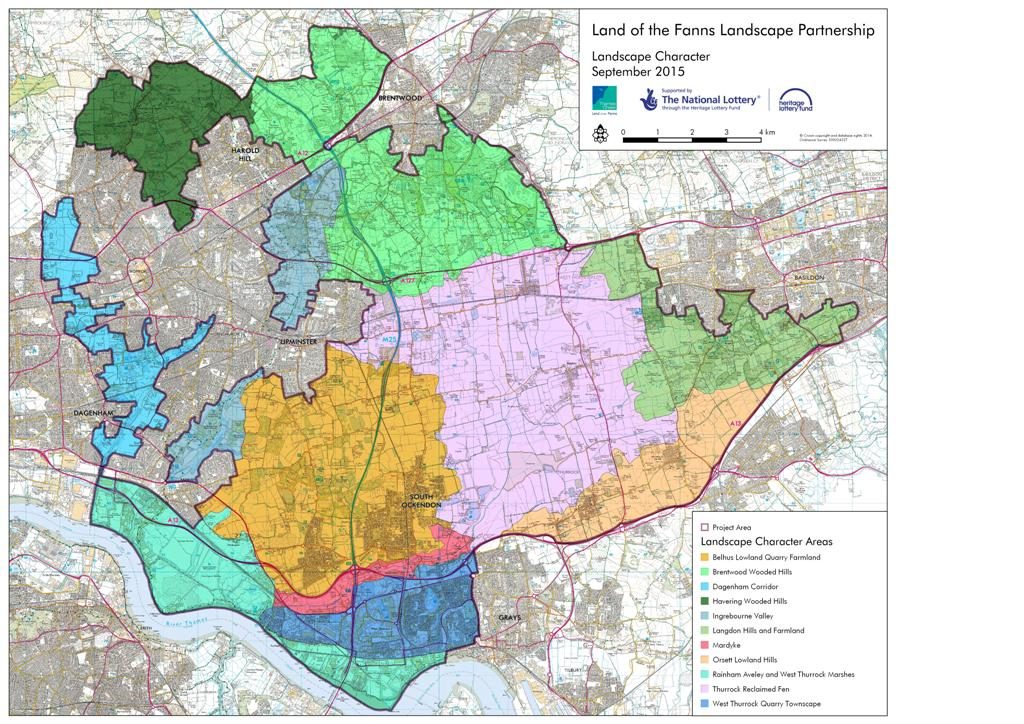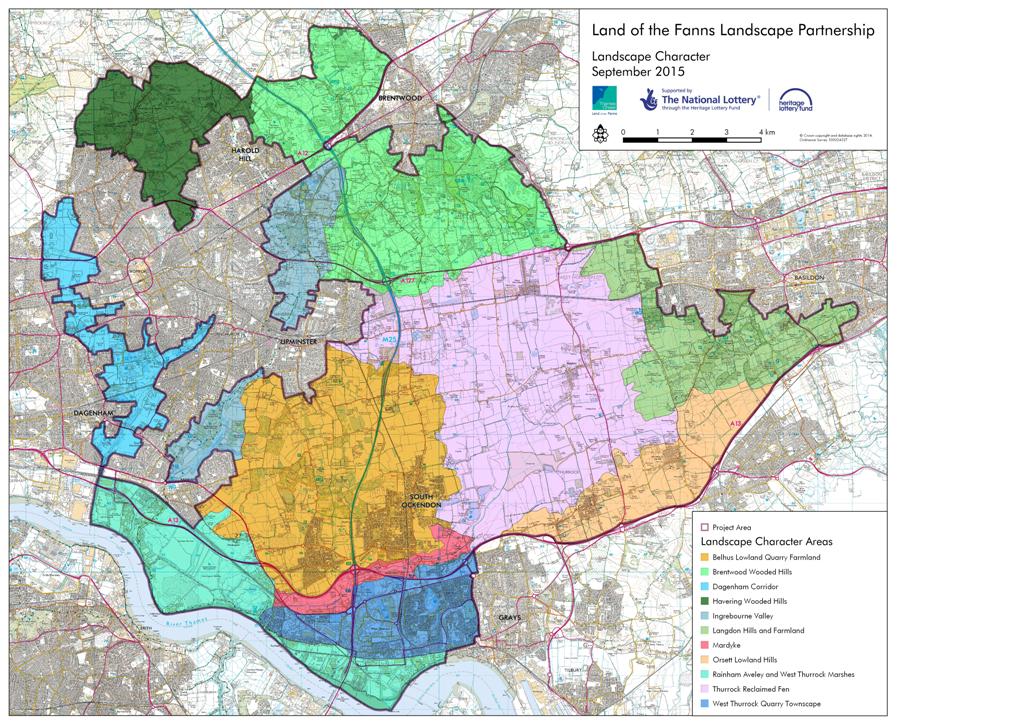 Please note:
You need to choose walks within your capabilities; the walk leaders are experienced but must take your word that you are sufficiently fit for the grade of walk you have chosen.
Walk leaders will be at the start of the walk regardless of the weather. In the unlikely event of any unforeseen circumstances, Land of the Fanns and Kinetika reserve the right to change or cancel a walk and/or performance. Please check the website www.landofthefanns.org regularly for any updates or follow us on Twitter  or Facebook. .
Please ensure that you are properly equipped for all walks. The weather can be unpredictable so bring waterproof clothing and/or sun hats and sun cream – it's best to be prepared for everything!
Walking boots/shoes are recommended, but otherwise please wear suitable and comfortable footwear- best to leave open-toe sandals or high heels at home.
Make sure you bring a packed lunch, if necessary, and plenty to drink.
Due care has been exercised in organising the walks, however Kinetika, the funders and associated partners of the project cannot accept liability for loss, accident or injury caused to any person following the routes.
We will be taking photographs and video of this event to promote and celebrate the project in print and online. If you do not give consent to be photographed or filmed please let a member of the Kinetika team know on the day.
Participants under the age of 16 must be accompanied by an adult.
Link to Eventbrite page here.