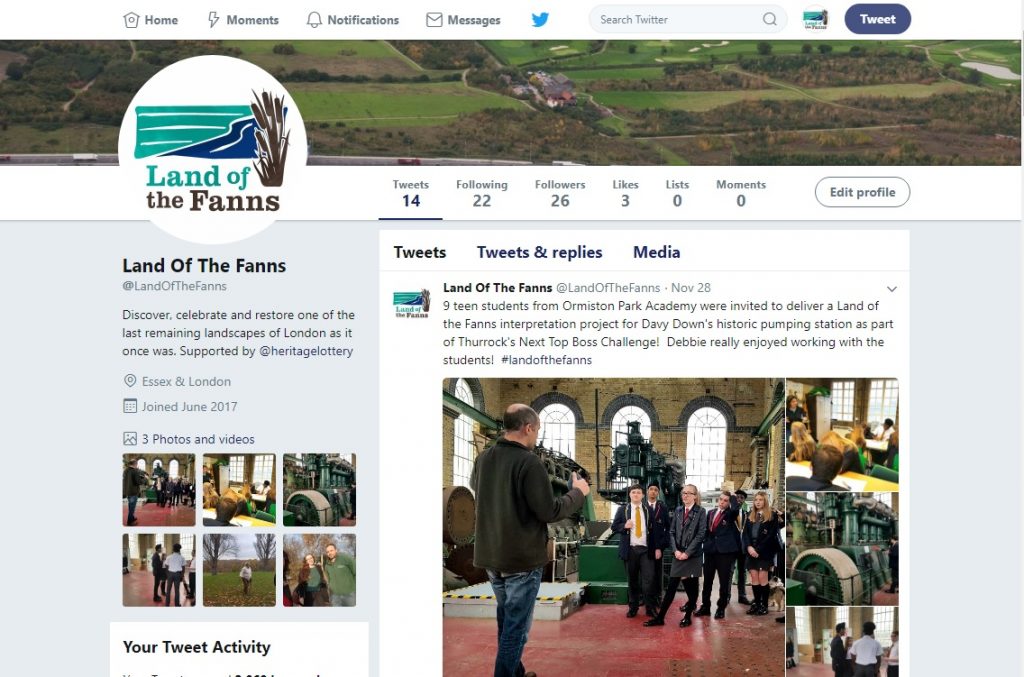 Project Status: In Progress
The Audience Development Plan explored the potential audiences for the LOTF LPS and considered what the most suitable promotion and marketing methods were. Informed by the survey respondents, the Plan identified that websites and emails (over 50%) were by far the most popular methods by which people want to be engaged. This is followed by word of mouth (20%) and leaflets/newspapers (20%).
In relation to audiences, the Plan highlighted schools as a unique case requiring relationship-building with specific school 'gatekeepers'. For this reason, school engagement is considered separately through the 'School Programme' project (C2.1). Unsurprisingly, young people favour social and digital media methods. Parents and families responded to posters and leaflets at 'hub' sites (e.g. community and children's centres, libraries) and associated word-of-mouth networks. Older people favoured email and e-newsletter (reflecting a growth in older digital use) in addition to local newspapers.
On this basis of the Audience Development Plan recommendations, the approach of the Landscape Partnership is to develop a strong online presence and digital marketing strategy to enable wide public promotion, supported by co-ordination of digital and physical marketing with partners 'hub' sites, and audience-generated digital content (with incentives) to help support word-of-mouth marketing.
As such, there are three elements to the project:
1. Website and digital marketing
2. Co-ordination of marketing across 'hub' sites
3. Incentives for audience generated content
1. Website and digital marketing
The need for a Land of the Fanns website is very clear and is not restricted to digital marketing. In addition to its use as a marketing tool, it will also need to host an evolving record of the landscape developed through other scheme projects (e.g. B2.1 'Designed Landscapes' and B2.2 'Community Mapping) and act as a portal for the Landscape Partnership to aid the administration of the Scheme.
As a marketing tool, the website will need to include clear information on the Land of the Fanns and the Landscape Partnership to quickly aid understanding. It will also need to be continually updated with the latest news on Scheme development (a blog), including events and activities taking place. The website must be linked to social media networks in order to maximise reach and increase the SEO (search engine optimisation) ranking, i.e. visibility on Google. The need for a dynamic and changing website will offer volunteering opportunities in content creation both within the website and via associated social media, for example blog writing, photography, filming and graphic design. The ability to generate e-newsletters from content added to the website can be built into the website functionality and emailed out to a growing database of contacts. Periodic updates and ongoing social media engagement via a Land of the Fanns Facebook and Twitter account will be needed. Especially in Year 1, there will need to be core input from the Land of the Fanns team while the Scheme establishes itself. The purpose and frequency of content will need to guided by a digital marketing plan, which will be developed early on in Year 1 alongside the brief for the website.
In relation to holding records from other projects, the website will need to enable this in a highly visual and intuitive way. This will need to be easy to use for both website visitors looking to learn more about the Land of the Fanns, and also volunteers and staff seeking to add new information to the site. While the commissioning process will help identify appropriate methods, it could be in the form of a dynamic landscape map where information is plotted and further detail available once clicked. There may be an opportunity to link this record with the digital app (C1.1. Digital Heritage) project.
As a portal for the Landscape Partnership, the website will act as a central point of reference for delivery partners. The website will need to host finance claim sheets, volunteer time sheets and other required reporting mechanisms that delivery partners will need to complete and submit to the Land of the Fanns team on a quarterly basis for Scheme monitoring. The website will also need to host all documentation relating to the successful scheme, for example the Landscape Conservation Action Plan, Landscape Character Assessment, Audience Development Plan and other supporting documents.
The website will need to operate throughout the Scheme and beyond as a critical part of its legacy.
2. Co-ordination of Marketing across 'hub' sites
This element of the project focusses on how the landscape can be marketed in a co-ordinated way at 'hub' locations across the Land of the Fanns. Whilst part of this will rely on traditional leaflets and posters distributed through partner networks, there is an opportunity to explore digital methods of also achieving this. A network of Internet-enabled screens will be rolled out at key 'hub' locations to display the latest information on Land of the Fanns events and activities. These will be driven by the website content (see section 1).
Co-ordination of marketing effort will also seek to build on the success of the HLF funded Discover Me (Discover Metropolitan Essex) partnership, which represented a first step in co-ordinating marketing for multiple built heritage locations within and around the Land of the Fanns area. Discover Me seeks to promote repeat visits from wide audiences through incentives such as a passport scheme and heritage bus tours that visit multiple sites across the landscape in a day. Consequently, the Land of the Fanns will seek to reinforce the Discover Me partnership by continuing the programme of annual heritage bus tours across
multiple sites.
The sites currently involved include:
Queen Elizabeth's Hunting Lodge, Epping Forest
The Hospital Chapel of St Mary the Virgin and St Thomas of Canterbury, Ilford
Coalhouse Fort, East Tilbury
Valentine's Mansion and Gardens, Ilford
Thurrock Museum, Grays
Valence House, Dagenham
Thames Chase Forest Centre, Upminster
Rainham Hall, Rainham
Old Chapel, Upminster
Havering Museum, Romford
Eastbury Manor House, Barking
Davy Down, North Stifford
Tilbury Fort, Tilbury
Upminster Windmill, Upminster
Opportunities to develop and expand this network will be sought during the
project.
3. Incentives for audience generated content
The third element of the project aims to stimulate word-of-mouth marketing by encouraging audience developed content. This will be in the form of periodic content competitions (e.g. photography, writing, drawings) where content is added to the website and a winner selected for a prize.
Audiences will be encouraged to share and distribute this content through social media. Indirectly, audiences involved in such competitions will tell their networks about it too.