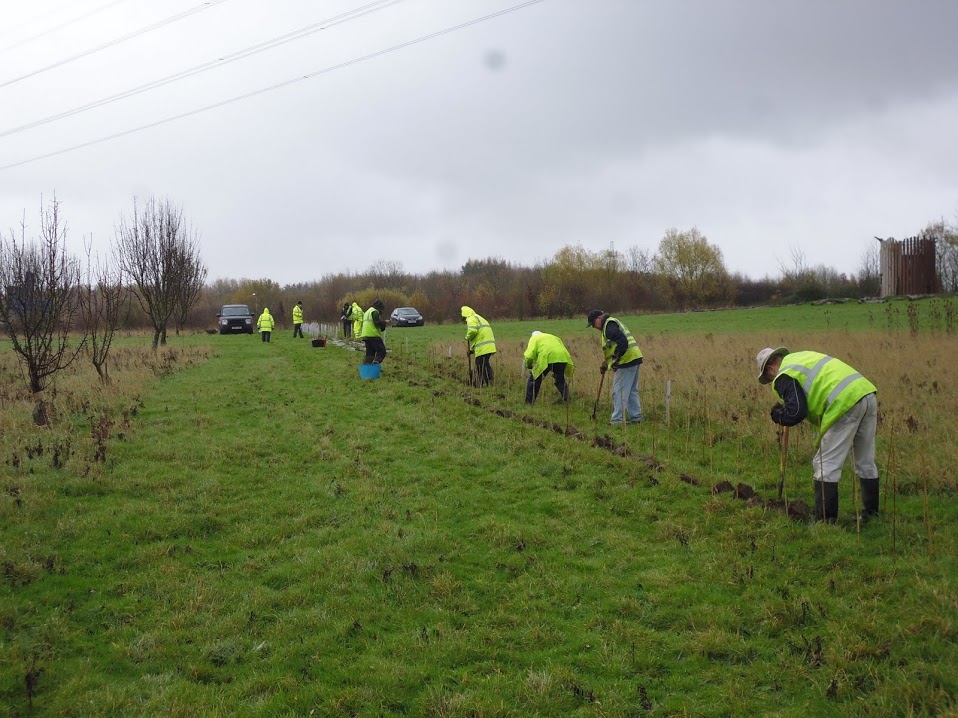 Project Status: In Progress
'Landscape Champions of Tomorrow' seeks to provide training directly relating to LotF LPS delivery and to support future sustainability through governance and leadership training. The project therefore underpins a wide suite of other delivery projects, whilst helping to lay the foundations for legacy.
There are two elements:
Supporting Scheme Delivery
Securing Programme Legacy
1. Supporting Scheme Delivery
This first element of the project will provide volunteers and partners doing project delivery with the training necessary to give them the skills and knowledge to manage and care for the heritage during the delivery phase and beyond. A variety of training opportunities will be provided to support the different projects. All training will be set in the context of enhancing the Land of the Fanns, with the specific training courses being reviewed during delivery to ensure continued relevance.
The Skills & Training Audit showed that there was a range of what could be described as 'soft skills' that were required to successfully deliver projects and activities across the landscape. Increasing the knowledge and skills of partners in these areas is the priority.
Community Engagement
Working with volunteers: A course that will help partners, project implementers and heritage hosts support, manage and develop volunteers
Engaging the community: Introducing partners and volunteers to a range of tools and techniques that will help them engage effectively with the local community, providing attendees with the skills and confidence to reach out to a wide audience.
Environmental and Heritage Education in the Countryside. This course will provide partners and volunteers with a fresh approach and new ways of engaging people in the landscape.
Engaging Young People in their Local Environment. A course specifically designed for this hard-to-reach group. Attendees will gain a better understanding of the needs of this group and techniques for engaging them in different subjects.
Running community events – a course looking at all aspects of hosting and organising events that aim to engage the public in their local heritage including Health & Safety, education and participatory activities
Emergency First Aid. A Chartered Institute of Environmental Health (CIEH) certification to help volunteers support Partnership staff on the ground.
Interpretation. These courses will provide volunteers with training that supports effective interpretation of heritage:
Oral History Techniques. Attendees will learn about the techniques and processes involved in recording oral histories, from conducting interviews to transcription and editing. They will leave the course ready to record
people's histories.
Writing About Heritage. This course will provide a volunteer with an understanding of the devices for communicating important messages while enthusing and sparking interest about heritage.
Communicating Effectively. This course will support volunteers providing 'living' interpretation for the walk programmes. They will be taught how to interpret body language and adapt their communication style accordingly. The course will also provide an understanding of theories and practice relating to effective communication.
Leading Guided Walks. Safely and Interestingly. This course will provide volunteer and partner walk leaders with the health and safety knowledge to risk assess walks properly. It will also provide attendees with different methods for storytelling and adapting their messages for different groups.
Digital heritage and LotF website. The following course will support the development of interesting and relevant content by volunteers for the mobile app and website:
Producing relevant content. This course will provide volunteers and partners with an understanding of what makes interesting content. This will explore what makes effective blogs, social media posts and successful use of photos, videos and sound which can support Scheme projects.
2. Securing Programme Legacy
The second element of the project looks at training that increases local capacity to secure the long term legacy of the scheme. Key themes for training are identified here along with possible courses that would aid personal development around leadership and effective governance. The exact courses to be delivered may change during delivery in reaction to the needs of people and the landscape legacy.
Leadership
Courses will focus on providing people with the skills to manage and lead their own groups with minimal support from local authorities and partners. It is about empowering individuals to lead future efforts to improve the landscape. Courses identified at this stage include:
Leading at a landscape scale – holding a vision for the landscape and being assertive, confident and able to influence decisions
Leading through partnership including running effective meetings and public speaking
Legacy planning – what needs to be addressed and when
Governance
Courses will focus on providing people with an understanding of how to manage small charities and trusts, with understanding of any legal responsibilities that this entails. Courses identified at this stage include:
Charity Trustees: Induction and refresher training
Building an Effective Board
Meaningful Strategy
The Effective Administrator – keeping those around you organised
Fundraising
Course will focus on developing the ability of groups to fundraise for the landscape, bringing in cash resources that maintain the legacy and enhance the landscape further. Courses identified at this stage include:
Trading and Enterprise for Voluntary Organisations
The Trustee's Role in Sustainable Fundraising
Developing a Winning Strategy for your Campaign
Finding Funding Faster
Bid Writing Workshops
Marketing
Courses will focus on building an understanding of audiences, key messages and communications channels between the two, so that the landscape can be articulated in the most effective way. Courses identified at this stage include:
Marketing Essentials
Google Analytics Training