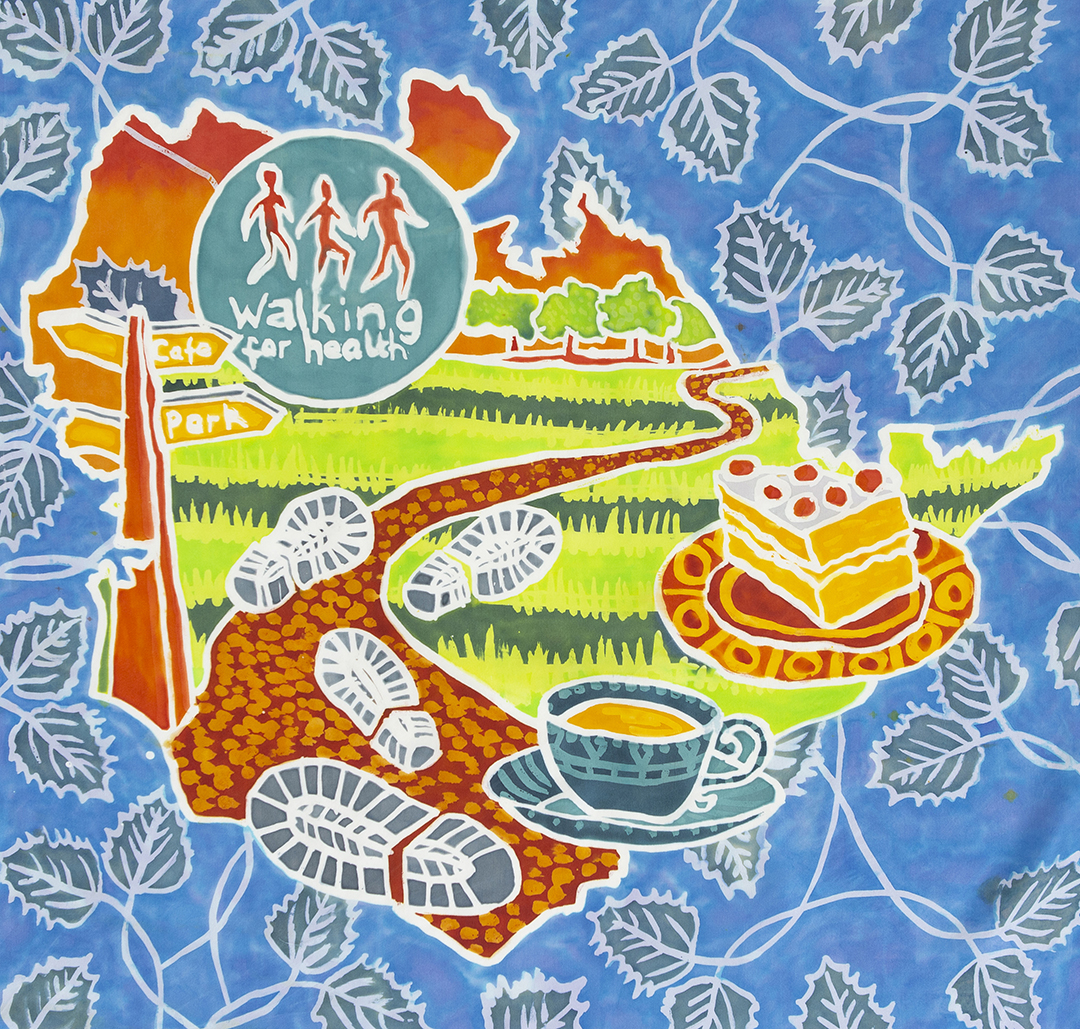 23. Walking and Talking, Havering Walking for Health
Many of the Land of the Fanns sites are in Havering. During our exploratory visits in May 2019, we came across a large group of walkers on an early Tuesday morning. They were a lively bunch, full of laughter, and crowded into the steamy café of the Essex Wildlife Visitor Centre at Hornchurch Country Park.
Later in the week, we encountered a similar group, with some of the same faces at Eastbrookend, I was intrigued. What was attracting these people in such numbers to walk?
I asked around and discovered this was Havering Walking for Health which was set up in 2003. Apparently, it started as an exercise group in Harold Lodge, as a programme for Hornchurch Hospital Heart Patients and later progressed to walking.
It is part of the Walking for Health national programme which encourages people to exercise for the benefits of their health, suitable for all ages and abilities, and aimed at those who are currently least active.
It is run by volunteers, and supported by the London Borough of Havering. There are more than 20 trained walk leaders and 20 walk venues. Walks take place six days a week and range from 30-90 min in length and are graded from easy to hard.
I decided to join them at Eastbrookend Country Park one sunny Friday morning in January.
The car park was busy, older people booting up, and scurrying into The Millennium Centre Café where Anne was registering walkers. The room was full, I could spot walk leaders in hi-vis jackets, rallying the crowd into groups, there were going to be three simultaneous walks, setting off at the same time on different routes and at varying paces.
I am introduced to a very smiley walk leader, Brian Potter. He chats effortlessly telling me he leads three walks a week, here on Fridays and at Hornchurch Country Park on Mondays and Wednesdays.
"What does it take to become a leader?" I ask.
"You just need to offer your time, then you get a day's training, so we know how to look after people, and keep everyone together."
We get going at a reasonable pace, there must be about 25 in this group who are of a variety of ages and backgrounds and with a number of health issues. Many are in recovery, many are living with cancer.
"It helps to be able to share our experiences." One of the men told me. "There's a few of us here with prostate cancer. I'm just getting back out again."
I catch up with a Ramblers veteran Michael, known in the area as the man who campaigned for the footbridge over the river Rom, opening up walks across two London Boroughs and who now walks with this group several times a week.
"I had to get rid of the car. So, it's important that I can get here by bus. These walks keep me going." A few yards later he adds, "I suffer from depression, I don't find it easy to socialise and my doctor tells me I have to be with other people, talk to them, and this is the easiest way for me to interact."
We walk around the lake, through the muddy woods and along the side of the river Rom. The water is high and we have to dodge dangling brambles. Someone comes to the rescue reaching into his Osprey backpack.
"I usually carry secateurs and a small saw just in case" He laughs, "always handy, especially when we're designing a new path through here."
We pass a farmhouse. "My wife's father lived in that cottage." Another reminisced. "She's not with us anymore." He introduces himself as Colin. "I was a mess when I turned up for my first walk. My doctor sent me to cope with the bereavement. At first it was a reason to get out of bed, breaking up the empty days."
A little while later I was introduced to Marian. She tells me how she met Colin.
"We shared so much. We'd both recently lost our partners." At some point, they got together she tells me. "But we don't forget the past, we go and visit them, they're still part of our new lives." She giggles "We've had two weddings in this group."
The hour seems to have passed by in a flash and we're soon back in the café – which is geared up now to serve coffee and cake. Most of the walkers stay, it's an important part of the routine. One group are planning to go away together next week. "We often go on holiday, you know. And we always put on a good Christmas lunch."
"Walking is the best thing you can do." One woman says.
"It's not the walking," A second woman chips in. "It's the talking."
One leads to the other, doesn't it?
I know this, the same happened to me ten years ago, that's why I'm here today.
Story writer/provider
Ali Pretty
Flag Designer
Lisa Meehan
Painter(s)
Kinetika Artists
Landscape Character Area
Dagenham Corridor