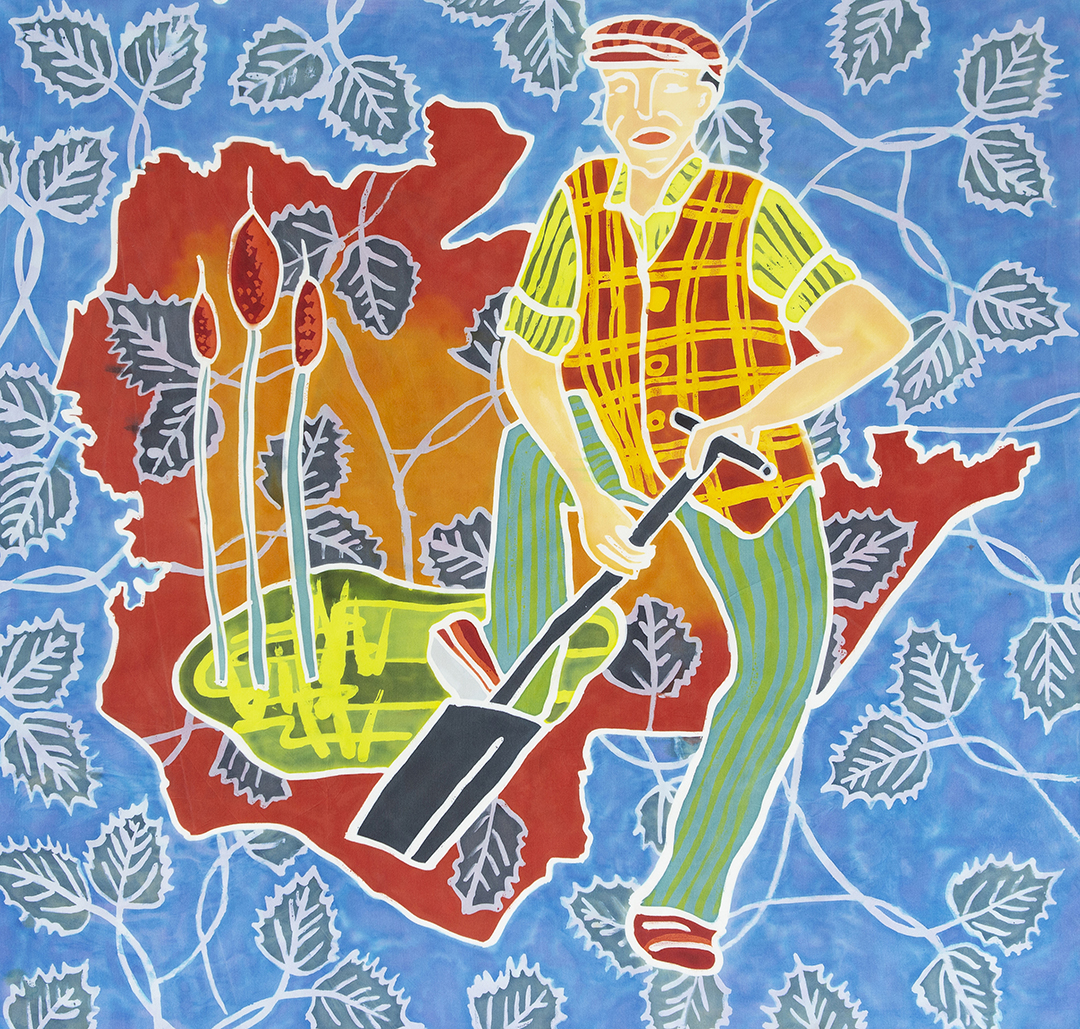 29. Early 20th Century Gravel Digger
Jim Baxter, the Gravel Digger
Hello there, my name is Jim Baxter and I used to work here back in 1936, before the second world war, digging sand and gravel to help build the Becontree Housing Estate in Dagenham.   I represent the land at Eastbrookend.
Can you imagine how different this site looked back then? It was just mountains of sand and gravel everywhere, a pit with a scarred industrial landscape and no room for wildlife.
My duty was to spend hours and hours every day with spades, hoes and ploughs digging up the sand and gravel and loading it onto vehicles for transporting across the borough.
How do you recognise me? Well, I wore a flat cap to keep out the sun, sturdy work boots to protect my feet from any hard debris and loose baggy clothes, as it could get quite warm during the summer but keep me comfortable during the winter too. Nowadays there is machinery to do the hard work.
When the quarry closed in the late 1960's, the area become a dumping ground until it was transformed in 1995 to the Eastbrookend Country Park. Now it is beautiful countryside with so much wildlife including a variety of birds, mammals, insects and fish.
So now, I am here to take you on a journey along the Nature Trail. Or you can go along on your own if you like. Just grab a map and follow the numbered posts. There are rubbing plaques with some of the different creatures you will find at each habitat, it's so much fun.  Make sure you use your senses (ears, eyes, nose, hands) to spot and listen for different animals. Some are a quieter than others, our wild rabbits are a little timid, so try not to frighten them, you will be able to see them from afar. Oh, and on the back of the map there are some questions for you to answer, to test your new exploring skills.
Have fun.
Story writer/provider
Ruth Taylor
Flag Designer
Lily Bowman
Painter(s)
Kinetika Artists
Landscape Character Area
Dagenham Corridor