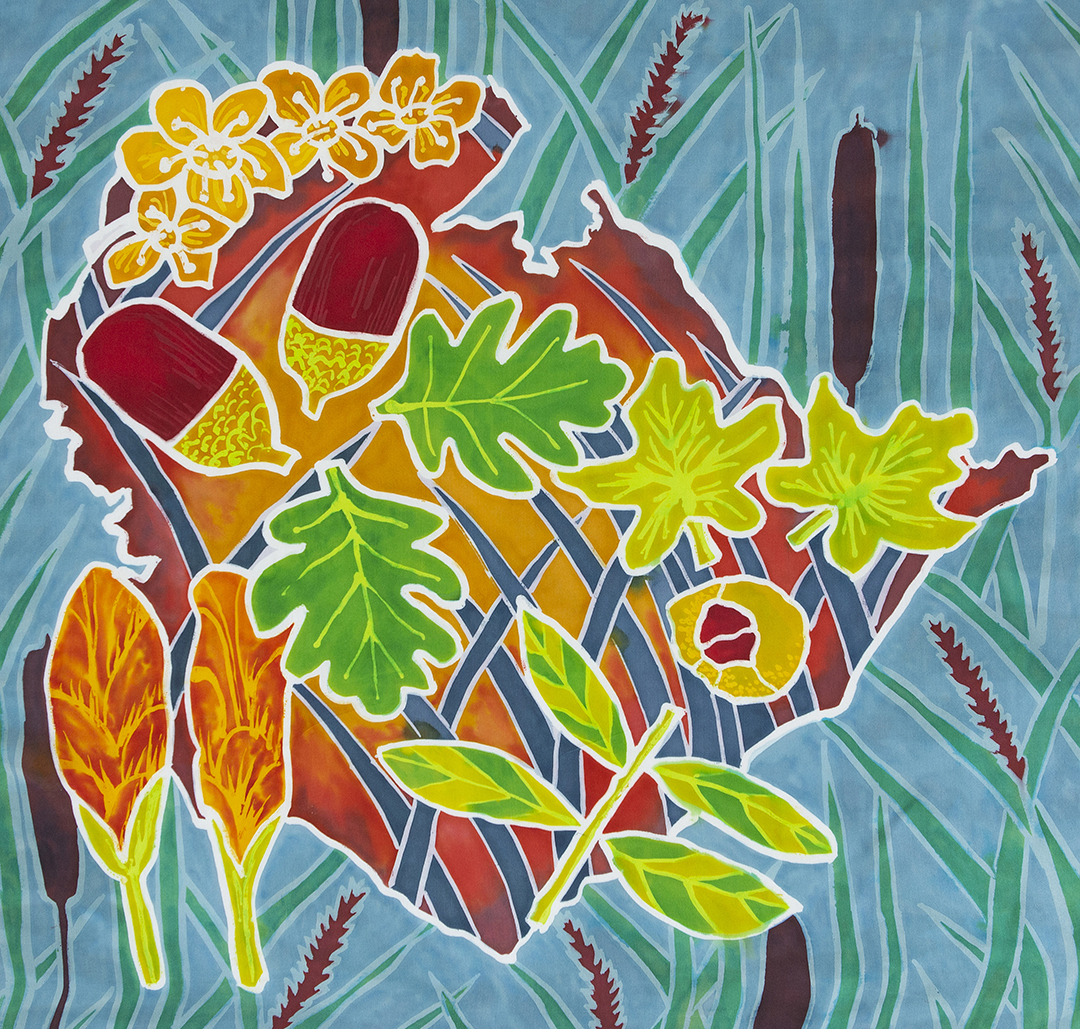 37. The Tree Species of Pages Wood
Take a walk around Pages, and you will find different mixes of trees forming parts of some very distinctive habitats.
There are areas of broadleaf high forest, where the main species seen will be such as Oak,  Ash, and Sweet Chestnut along with a small scattering of conifer, and some smaller trees around the edge. Unfortunately, many of the Ash have died due to ash dieback, however a small number have survived along with some of the more mature ash trees around the site.
The edge trees, consisting mainly of Field Maple, Hawthorn, Hornbeam and Hazel provide another distinctive habitat.They provide shape to the larger high forest blocks, where, as the name suggests, they are planted around the edges.
Areas of conifer high forest which, contrary to its description, only contain around 80% conifer, mainly Douglas Fir, Larch, Corsican Pine and a smaller number of Scots Pine. A scattering of broadleaves is included. Conifers only account for around 20% in total of the trees planted at Pages, although they appear more numerous due to their ability to gain height faster than broad-leaf trees.
Douglas Fir, Larch, and Corsican Pine are not considered as native species but they do have an established place in British Forestry. While Pages is primarily managed as a recreational site,  these were  planted with a view to providing opportunities for sustainable timber production in the future. Douglas Fir was introduced to the British Isles in 1827 and Corsican Pine in 1759, it is believed that Larch has been used in British forestry since the 17th century. It is the only native European conifer that is deciduous – it loses its needles in the winter.
Scots Pine found in the conifer plantings is one of only three conifers that are considered native to the British Isles. One of the other native conifers, Yew, can be found planted in small numbers in some of the woodland edges. The last of the three, Juniper is not found at Pages.
Small area of wet woodland habitat can be also found throughout the site, which are made up of mainly Willow and Alder species, with a few Ash.
A number of other tree species can be found such as Lime, London Plane and Walnut, the latter being is another non-native species, but with a long history of planting in the British Isles. Some examples  can be seen as you follow the trail west from the car park. The Walnuts were mainly planted in the open as they are not very tolerant of competition from other plants when getting established, however once fully grown it can have one of the largest crown spread of trees planted in Britain. If you are quick, you may be lucky enough to get some of the nuts from the trees, if you can get there before some of the more regular visitors.
Some of the older trees at Pages, which are protected by Tree Preservation Orders, may also be considered as veteran trees, containing a number of features such as dead branches, fugal fruiting bodies, cavities in the branches or stems, some good examples of these can be found in the old willow and oaks on the site.
A total of 107015 trees were planted, consisting of 30 different species, between 2001 and 2004. A small number of trees were planted as seed rather than saplings, and there are already large numbers of young trees growing through natural regeneration.
Here is the full list of the trees that were planted, set yourself a challenge and see how many you can find.
Field Maple – Acer Campestre                        London Plane Platanus x Hispanica
Common Alder – AlnusGlutinosa                           Poplar Clone – Populus – Hybrid
Silver Birch – Betula Pendula                                 Wild Cherry – PrunusAvium
Hornbeam Carpinus – Betulus                                Blackthorn – PrunusSpinosa
Sweet Chestnut -nCastaneaSativa                       Douglas Fir – PseudotsugaMenziesii
Dogwood – CornusSanguinea                       English Oak – Quercus Robur
Hazel – CorylusAvellana                           Dog Rose – Rosa Canina
Hawthorn – CrataegusMonogyna                          Purple willow – Salix Purpurea
Ash – Fraxinus
Excelsior Almond willow- Salix Triandra
Holly – Ilex AquifoliumOsier – Salix Viminalis
Walnut – JuglansRegia            Crack Willow Salix Fragilis
Hybrid Larch -Larix x Eurolepis                              Rowan- SorbusAucuparia
Crab Apple – Malus Sylvestris                                Yew – TaxusBaccata
Corsican Pine – PinusNigravar.maritima               Common Lime – Tilia x Europaea
Scots Pine – Pinussylvestris
Guelder Rose – Viburnum Opulus
Story writer/provider
Simon Elgar
Flag Designer
Lesley Robinson/Steve Green
Painter(s)
Kinetika Artists
Landscape Character Area
Ingrebourne Valley