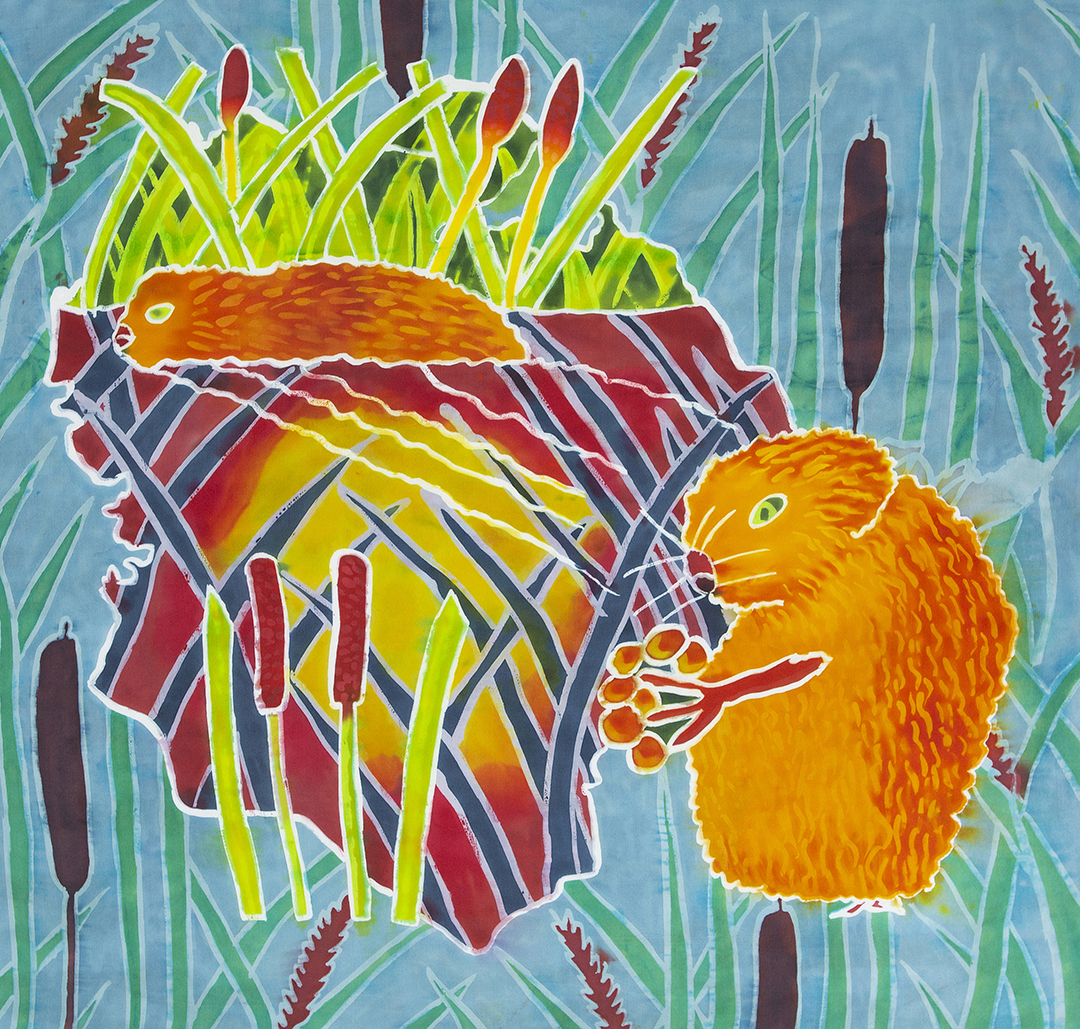 50. Verity: The Water Vole
The walk, amongst the chainsaw sculptures at Pages Wood, features Verity the water vole and her journey where she meets a number of other residents of the riverside. Once  common in our wetland habitats there were around 8 million water vole at the start of the 1900s in the UK.
During and in the years following the first world war, bank-side vegetation was often removed for crops, and grazing cattle trampled their banks and homes. The intensification of farming during the Second World War caused even more habitat loss. Their decline increased further when American mink escaped from fur farms that started up in the UK during  the 1920's, and by the 1970's there were 800 mink farms in Britain. Some of these  had as many as 5,000 mink of which some escaped and began to breed in the wild.  A breeding female mink is small enough to enter a water voles' burrow and can cause the extinction of an entire water vole colony in just one breeding season.
It is estimated today there are only around 100,000 water voles in the UK. They are a protected species under the Wildlife and Countryside Act, and listed as a priority species in the UK Post 2010 Biodiversity Framework.
I'm Verity, a Water Vole
I'm not a rat, no not at all!
I swim and dive and nibble the grass,
And live where the reeds grow tall!
(Simon O'Rourke)
Water voles live along rivers, streams, ditches, around ponds and lakes, and in marshes, reedbeds and areas of wet moorland. Signs of their presence include burrows in the riverbank, often with a nibbled area of grass around the entrance.
Water voles prefer to sit and eat in the same location, so you may see piles of nibbled grass and stems by the water's edge, with a 45 degree, angled-cut at the ends. 'Latrines' of rounded, cigar-shaped droppings may also be seen. Water voles start to breed in spring,and can have three to four litters a year of up to five young. They may live for up to 18 months in the wild.
Often, but wrongly called water rats, the water vole has chestnut-brown fur, a blunt, rounded nose, small ears, and a furry tail. It is much bigger than other vole species, at between 14 -22cm in length. The brown rat, although similar is much larger, with grey-brown fur, a pointed nose, large ears that protrude from its fur, and a long, scaly tail.
Hopefully the recent wetland restoration works at Pages Wood, may one day see our own population of water voles emerge, and with their role as "eco-engineers", they can have a positive impact on  waterways which will have massive benefits for both wildlife and ourselves. Their foraging and burrowing increases biodiversity for the benefit of many species, some of these feature on the sculptures which tell the story of Verity's walk.
The next time you are at Pages, why not follow Verity on her walk, and find out who she meets.
Story writer/provider
Simon Elgar
Flag Designer
Lesley Robinson/Steve Green
Painter(s)
Steve Green
Landscape Character Area
Ingrebourne Valley