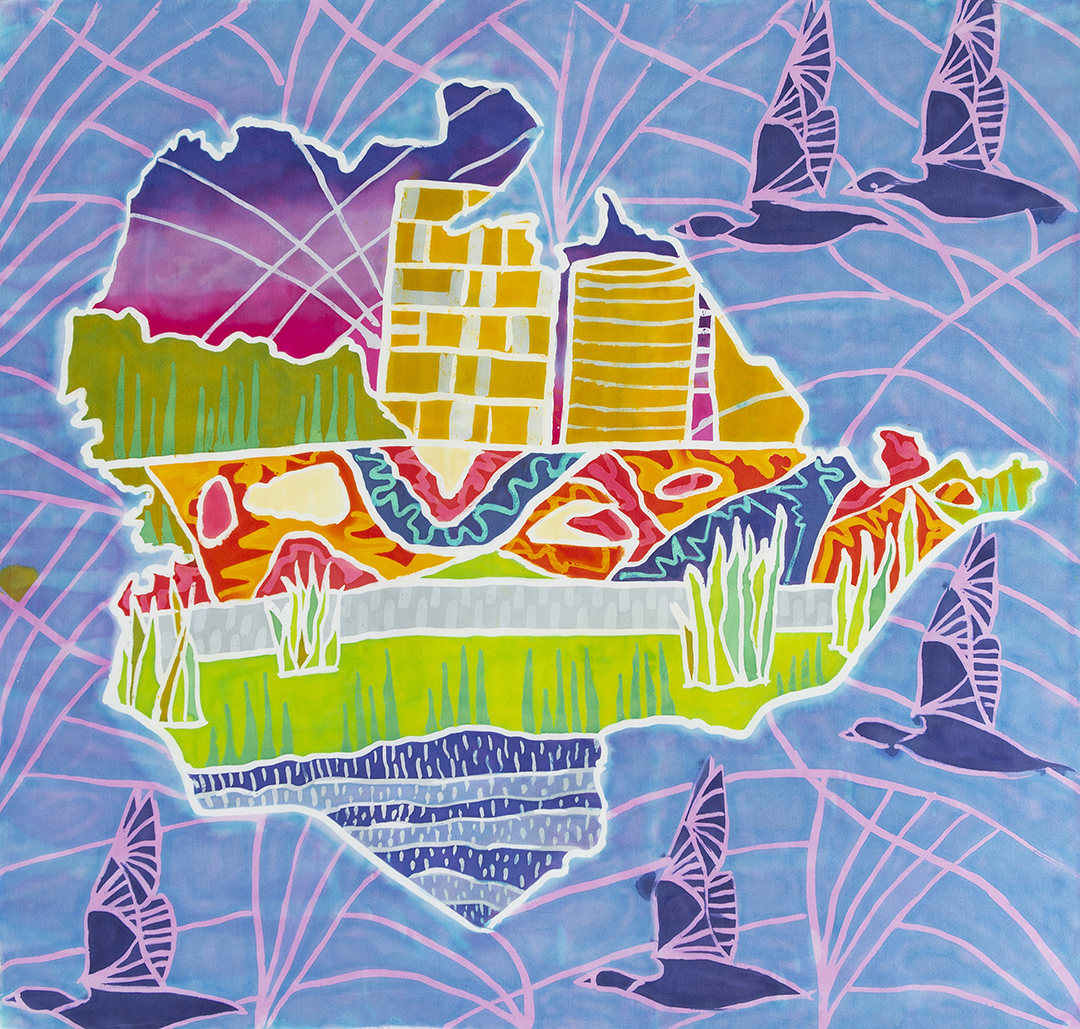 77. Graffiti Wall: Grays to St Clements
The Essex coast is one of the longest in England, the majority of the land is protected from tidal flooding by sea wall flood defences. Essex has more than 275 miles of sea walls, which means mile upon mile of huge concrete slabs around the coastline.
The 2m high seawall between West Thurrock and Purfleet is adorned with graffiti for almost its entire length – about 1½ miles.
Love it or hate it, the graffiti on this segment of the wall is a long line of bright colour on what can be a very grey stretch between the Thames and industrial sites.
When I have walked this section of wall I have rarely met anyone actually painting it; however in July 2019 I met 3 young men painting a section and who were happy to stop and chat about what they were doing.
The young men came from Harlow. As they all had a day off from work and it was a lovely, sunny day they decided to come to Thurrock to repaint a section of wall. They travelled down, only stopping at Hobbycraft to buy some cans of spray paint. Apparently if you buy good quality paint you can use it without an undercoat.There are no "rules" about which section you can paint over but it is good manners not to over paint a section of wall that looks like it has been recently repainted. The 3 graffiti artists do not usually have a plan before they get to the wall, the design and colours depend on how they feel on the day. They told me they enjoy working on the sea wall in Thurrock as they have space to work in a peaceful setting. One day they hoped to take a trip on the river so they could see the whole length of wall properly.
There are places where I do not like to see graffiti, but the walk from Grays to St Clements on footpath 170 never fails to lift my heart – that long line of bright colour next to the Thames on those huge, grey, concrete slabs.
The council view about the wall …..
"Thurrock does not have, nor does it ever plan to have, a legal graffiti wall. The Council regards graffiti as an act of criminal damage and adopts a zero tolerance approach, to protect public and private property.
As well as damaging property, graffiti / tagging also causes intimidation and fear of crime. It generates a cycle of disrespect that can lead to more excessive forms of vandalism, anti-social behaviour and crime."
Story writer/provider
Lesley Robinson
Flag Designer
Lesley Robinson
Painter(s)
Lesley Robinson
Landscape Character Area
Rainham, Aveley and Wenington