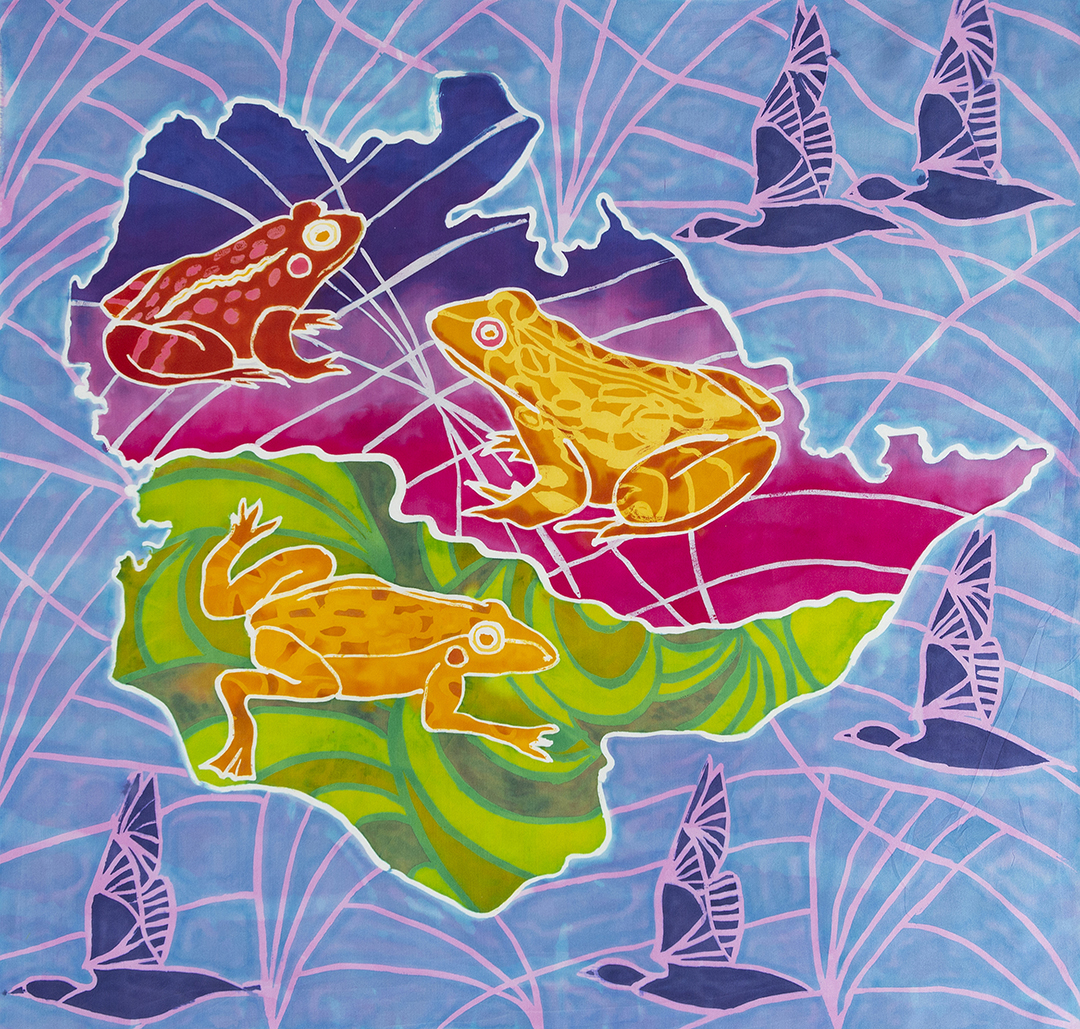 78. The Green Frogs of RSPB Rainham Marshes.
The RSPB bought 1000 acres of neglected Lowland Wet Grazing Marsh from the MoD in July 2000 and set about returning it to its former medieval glory and reinstating its favourable SSSI status. It has taken time, but the reserve now boasts a plethora of breeding species that were just hanging on along our inland stretch of the mighty Thames.
Redshank and Lapwings are not far off a hundred breeding pairs of each. As we head towards our 21st year Skylarks, Reed Buntings and wildfowl are breeding in increasing numbers while newcomers like Cetti's Warblers and Marsh Harriers are now staples of any visit. Little Egrets now nest nearby and Cattle and Great White Egrets are increasingly being seen. In the winter swirling flocks of Black-tailed Godwits, Redshanks, Dunlin, Snipe and Lapwing share the marshes with whistling flocks of Wigeon, Teal and Pintail.
However, the reserve is not only about the birds and we have a very rich biodiversity that takes in Great Silver Diving Beetles, Willow Emerald Damselflies and Blue-eyed Hawkers, plump Water Voles, Bee Orchids, rare Ladybirds and some funky flies.
Back in those early days we used to occasionally find the odd Common Frog but to be honest it is not really their habitat and we suspected that our finds were the result of well-meaning releases. However, back in the spring of 2003, I was out on a bird survey when I heard a distinctive croaking laugh from a ditch and that was the start of the colonisation of every available waterway by the Marsh Frogs.
Just how they got to us is unclear but what is for certain is that they were present at the EWT reserve up the Mardyke Valley at Davy Down (along with a small but problematic population of American Bull Frogs).  We are not connected directly by any water to the Mardyke despite it flowing alongside our entrance and so an overland invasion force must have occurred at some stage.
Within a couple of seasons, they had multiplied and here we are 16 years later with a wondrous cacophony of sound across the marsh from early spring onwards. These monster frogs come in a variety of colours and pattern, some warty, some blotchy, some with long tramlines up their backs.  They come in all shades of olive and brown with the odd plain Kermit green, and the turquoise blue or mustard yellow with red eyes one.
Now this is where things get complicated. There are actually three very similar species of these large frogs that make up the Green Frog Complex and it is just that. Their origins in Britain are about as unclear as those for Ring-necked Parakeet but what is known is that in the 1930s a lady entrepreneur decided to capitalise on the trend for French cuisine and decided to farm frogs on Romney Marsh in Kent. She collected her stock from Hungary (I believe) but did not bring back Edible Frog but the very similar but also edible Marsh Frog which of course duly escaped from her 'farm'.  Subsequently they have spread and multiplied across the south east and this species is certainly the most prevalent but there are colonies of pure Edible Frog to be found too as well as the third species, Pool Frog which bizarrely has a turbulent British history. It was eradicated from the glacial pingos of East Norfolk in the 1970s as an alien only to be then discovered in the fossil record in the said same glacial deposits.  Oops… this species has now been reintroduced to the same area as a native species.
Back to Rainham Marshes; our frogs are weird. Not only arethey highly variable in colour and patterning but even in shape and I believe that there are pro features for at least two of the three species that are possible.
Some vocal work was done in the early days and even these sound recordings did not match that of any other known British population.
And so, we get to the issue of Mega Frog.  Back in the first few years of colonisation we used to encounter truly huge frogs out on the marsh. They would have easily covered a side plate and sat upright like a toad (Marsh Frogs lay flat) and often had bumpy skin.In fact, they looked more like American Bull Frogs but with Marsh Frog faces and sometimes even a lime green back stripe.
I raised the idea of Marsh Frog Bull Frog hybrids with the London Herpetological experts and was told that despite both species being present about a mile away, hybridisation was unknown and highly unlikely. Our Mega Frogs were dismissed as oddities. Carrying around a camera (or phone) was still a novelty back then and whereas now there would be a wealth of images, we had none to prove our case.
Eventually, a picture was obtained of a not quite hapless beast that had been caught by a Grey Heron.  The bird was holding it by one extended foot and by doing some calculations the leg of the frog was measured at 18 inches in length and the thighs were as big as the Grey Heron's own. It escaped after a struggle.
In recent years our frogs have all been of normal size although a big female is still more than twice the size of Common Frog but it is the role which this non-native species plays in the life of the reserve that is key.  Not only are they the most popular family draw come spring time when the marsh is alive with their croaking but their proliferation has resulted in a dramatic increase in Grass Snakes and they have become food (in all their life stages) for Marsh Harriers, various herons, Little Grebes and even Stoat, Weasel and Kestrel have been seen catching them.
In short, our marsh would not be the same without our annual frog chorus.
Story writer/provider
Howard Vaughan
Flag Designer
Margaret Hall
Painter(s)
Kinetika Artists
Landscape Character Area
Rainham, Aveley and Wenington