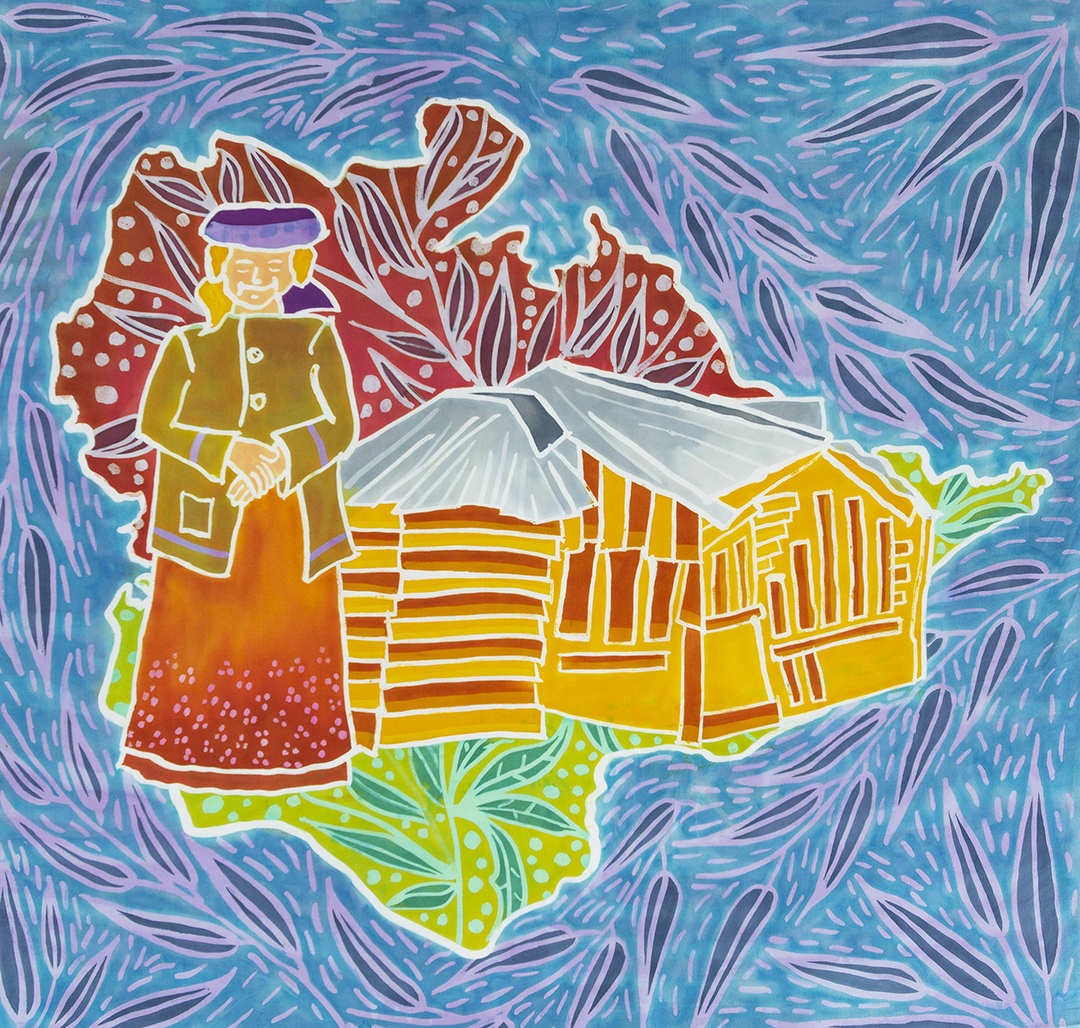 The Bulphan Hermit: Mrs. Clarinda Clementina Richards nee Reynolds
My name is Clarinda: Clarinda Clementina Richards.  I was born Clarinda Clementina Reynolds and I am the great-grand-niece of Sir Joshua Reynolds.  You will know that he was one of the major European painters of the 18th century and he specialised in portraits.  I was born seventy-seven years ago in Suffolk and in due course, I married a painter and picture restorer named Richards.
We had a little art business, and although we lived in London, we bought this plot of land here in Bulphan and started to build an art studio.
Then, fifteen years ago, my dear husband died and left me a legacy of debt.  First one thing and then another had to be sold.  The few things I owned had melted away.  My furniture was seized.   Finally, after a long lonely descent through the Vale of Misfortune, I arrived at this place.  Do you know, once a Daily Chronicle reporter visited me and published an article about me, and he said he found me leading a strange hermit life in a wooden shanty that made him positively shiver to look at it.  Silly man!
He also said Bulphan was a mushroom village that had been dumped down by an unsympathetic Providence on a flat, muddy Essex Waste.  My beloved Bulphan.
I don't know if the local councillors read the Daily Chronicle: if they do, maybe that's why they have declared, in their superior wisdom, that I would be more comfortable elsewhere and they are doing their best to have my home demolished.
I certainly don't see eye-to-eye with the Council. I object strongly to leaving my little dwelling: for me, there is no place like home.
I own this land: a little plot near the Harrow Bridge, divided up by dykes, all full of water.  On an island in the middle is my home: that rude man described it as a shanty, and said it looked as if a housebreaker's cart had shot down a collection of old planks and window-frames and covered it all with a tarpaulin.  I made the front gate myself, by tying together little branches, and I attached a bell so I know if someone is coming up the cinder path.
I suppose my old straw hat and equally ancient shawl mislead people into thinking I'm just a local peasant, who doesn't deserve any respect: but the minute they hear my voice, they seem to change their tune: I've been told I have a refined accent that only goes with education and good breeding: the voice of a lady, in fact.
I am so happy here: I get 10 pounds a year from the Artists' Benevolent Fund, and I sell duck and hen eggs: I grow my own vegetables and I glean from the fields.  I have quite enough for my needs.
I'm as hearty as a girl of 17, I don't feel the cold: in fact, my only problem at the moment is that I've lost nearly all my teeth.  My "shanty" is divided into 2 rooms: a living room with a table, a chair and my fireplace (with a hole above for the smoke, obviously).  I've also got my precious Titian picture, some Crown Derby, some crystal glassware and a few books.  I share my apartment with my "kittens" – they are rats, but as playful as kittens and they are all my friends.
I came here in 1905, so I've been here for 3 years so far: all except for a fortnight.  That fortnight was a terrible business: let me tell you all about it:
About a year ago, an official from the district council came and said he wanted to see my bedroom: my bedroom?  I told him I couldn't under any circumstances allow him to do so.  It was not my habit to show gentlemen that apartment.  However, he insisted, whether I liked it or not.  I haven't got a door, so he climbed through the hole that is my entrance, inspected the bedroom and went.
The next thing I knew, Mr. James Beck, clerk to Orsett Rural District Council, applied for a committal order against me, said that I should be fined £2 and pay costs for occupying a place that was considered unfit for human habitation.  The Orsett council said they were making this application really in my interests and said I was " living in a wretched, starved condition, without any means of support." The council's officers came round to collect the money – but they certainly got a surprise: I threatened them with my late husband's revolver.
They left me alone for a little while after that – but then the Orsett Rural District Council decided to serve three months' notice on me, saying I occupied a dwelling of "a decidedly primitive character" near Bulphan.
Well, I decided to attend the meeting of the Orsett Rural Council and speak up for myself and my shanty.  I told them that for the past two or three years I had lived in the place, I had enjoyed perfect health: better than for many years before.  I said it was true that there were a number of rats, but that I did not mind them.  They would bring me prosperity.  Some people, perhaps, could not live under those conditions, but it suited me.  Previous to coming there I had suffered from influenza colds for years, but during the time I lived there I had never been troubled with a cold at all.
Mr. Edwards, the Rural Councillor for Bulphan, then spoke, and said he had seen my hut.  There was no chimney-place, and the fire was in a pail. He had been in the house when the water was all around the bedstead and that I was obliged to use an umbrella when in bed to keep off the rain.  He added that I had the open-air treatment to perfection, as every part of the building let in the wind.  And do you know what?  The members of the council just laughed.
Mr. Smith, chairman of the council, said he felt some-what confused.  They had heard two descriptions of the place.  On the one hand, they had heard from me a description of a Norman Castle with a moat around and on the other hand they had a gentleman who purported to visit the place and to have had a vivid scene of a lady in bed holding over her an umbrella.
Anyway, the upshot was they sent me (me…..a refined lady!) to Holloway Gaol for a fortnight: and it was at Holloway that I contracted the only illness I have had for years.
But I'm still here: and I'm determined to stand my ground.  My shanty worries no-one.  It suits me.  The council will have to prove that I'd be better off in a proper house.
Now, would you like to buy some of my eggs before you go on your way?
Footnote: in the 1911 Census, Clarinda C. Reynolds,  aged 80, was still living on Bulphan Fen.
But in The Essex Newsman  of Saturday, 20th January 1917, appeared this announcement:
Mrs. Clarinda Clementina Richards, a widow, aged 86 years, died somewhat suddenly in a caravan on the Bohemia Estate, Eastwood, on Tuesday.  She was something of a character and came into public notice some years ago as "the woman hermit" when she lived at Bulphan.
Story writer/provider
Janet McCheyne
Flag Designer
Lisa Meehan
Painter(s)
Kinetika Artists
Landscape Character Area
Thurrock Reclaimed Fen