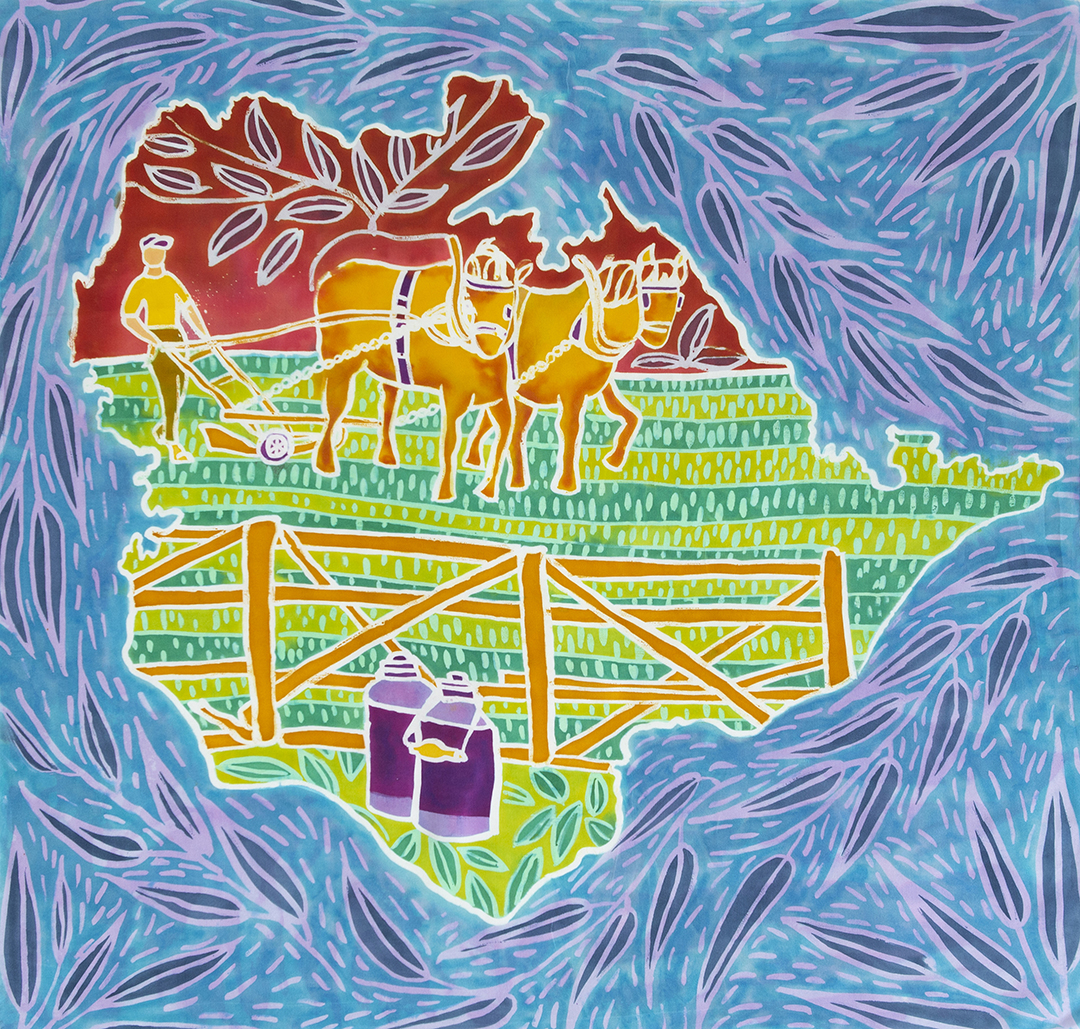 I know nothing about the Fen.
But upon seeing what is called the Fen
This is my interpretation on how I imagine
It would be, and maybe still is.
I walk along our village path
Alongside the church, around the bend.
Pass by the school, children's laughter accompanies me
As I walk towards the Fen.
The warm caress of the sunshine
Fills my heart, my soul, I anticipate
What wonders to unfold.
As I gaze across the Fen
As days gone by, one sees men
One or ten, blood, sweat and toil
Working the soil, upon the Fen,
From dusk til dawn they wipe their brow
Working the fields with horse and plough
Tending the sheep, milking their cows
Upon the Fen
Beautiful and green
Trees stand, tall and serene
What wonders unfold as stories are told
How it once might have been
Golden heads of corn, swaying in the breeze
Butterflies hovering with glossary wings
The farmyard cat stretches and turns
To see the grocer with cart, delivering the churns
Farmers gathering hay in far distant fields
Praying for a healthy yield
A familiar sound of the church bell peal
Cotton wool clouds, reflect in puddles at one's feet
Piled high barges pulled by magnificent shires
Men Guiding their beasts along the Mardyke
Farm field fires, smoke drifting along the canal
Farm hands gathering, walking back home,
After a hard-worked day.
The Fen can be wild, angry skies, cold frosty nights
Families huddled round log fires.
Rosy cheeks, eyes bright, wide
Snow falls like diamonds shimmering
across the Fen.
Women with babes in arms,preparing food for the men,
Wind howls, falling rain, work still to be done.
Occasionally, look up for a small glimpse of sun.
Winter, Spring pass, the fields soon erupts
Into a carpet of yellow buttercups
Children playing in fields of cornflowers of blue
Sunflower heads soon ready to bloom
Poppies of colours bobbing their heads
Horse and carts moving back and forth
With families from market, with goods they have bought
The sound of the hooves upon the ground.
I stand at the rickety old gate, I smile at the sound.
I smile, I wave, they turn and stare.
They may not see me, but know someone's there.
I bid farewell, they bid good day,
they raise their hats, soon on their way.
I am in awe, what I have seen,
Of days gone by, what could have been.
I go on my way, I pass the school
Across from the church, round the bend
Back from the Fen,
What a lovely day.
Story writer/provider
Judy Wright
Flag Designer
Margaret Hall
Painter(s)
Kinetika Artists
Landscape Character Area
Thurrock Reclaimed Fen