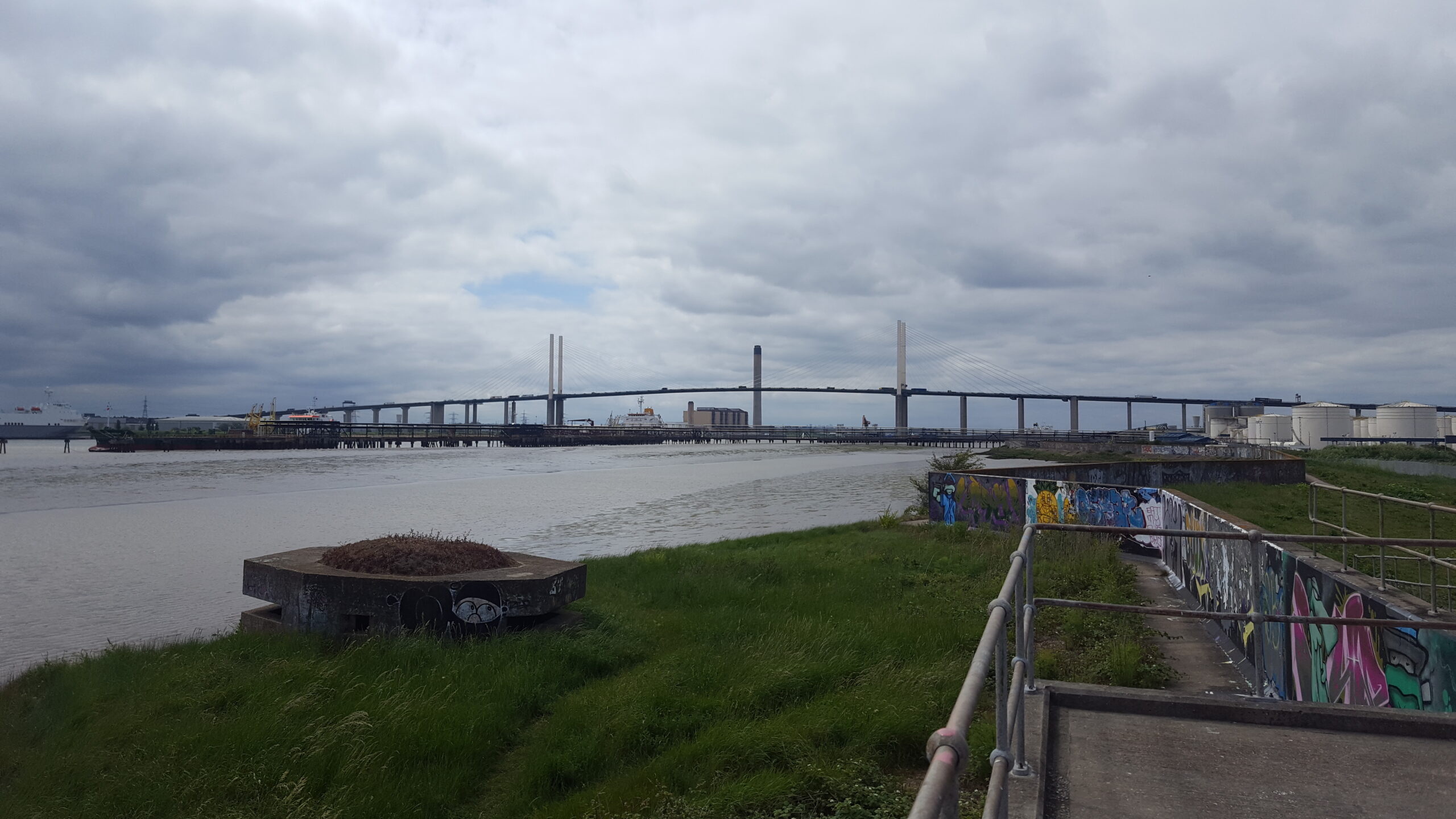 27th November 2021 at 10:00 am

-

3:00 pm
Thames Chase Forest Circle Walk – Section 4
---
Join us for the next Forest Circle Walk! This guided walk goes through green, urban and industrial areas of the borough of Thurrock before joining the Thames path.
Points of Interest: River Mardyke North Stifford village Chafford Gorges St. Clements Church and conservation area 3 miles of the Thames Path including the 'Graffiti Wall' and 'under the QE2 Bridge'
Start: Stifford Bridge 370 bus (Romford to Lakeside) 22 bus (Aveley to Grays Via Lakeside) Car Park at Davy Down (approx 1/4 mile away)
Finish: Purfleet Station 44 bus to Lakeside (where you can get 370 bus back to Davy Down car park) CTC train (Barking to Grays loop)
Please note: No refreshment or toilet facilities on the walk. At the finish there is the Royal Hotel (food, drinks + toilets) a short walk from Purfleet Station.
There are a couple of steep sections.
Chafford Gorges
From the 18th century to the end of 1950s, a large proportion of Chafford Hundred was extensively quarried for Brickearth to make bricks, gravel and chalk, with flint as a side product. These were used to produce lime for mortar, whitewash and – from the 1870s – cement. The nature park was created within the disused quarries with the Chafford Hundred housing development built around the edges. Much of the area is formed from chalk, deposited from 97 to 65 million years ago, at the bottom of a tropical sea, which was around 300 metres higher than today.
There are 5 main areas in the nature park:
Warren Gorge is the largest gorge and at its base there are meadows and lakes – ideal habitats for chalk-loving plants, kingfishers, house martins and orchids
Lion Gorge has a large lake containing tench, rudd, pike and bream – it is also home to 4 different varities of bat.
Grays Gorge contains 9 species of orchid and other wild flowers, along with reptiles such as adders, slow worms and grass snakes, as well as species of birds, butterflies, bees and beetle
Mill Wood is an ancient woodland that supports a range of wildlife
Wouldham Cliffs form the backbone of the nature park and has views over Lion Gorge – in summer
Date
Saturday 27th November
Time
10:30am-3pm
Location
Start Point: North Stifford Bridge
End Point: Purfleet Station
Cost
£3 Donation
Public Transport:
Buses & Trains to and from start and finish points for the walk:
Stifford Bridge:
– 370 bus Romford to Lakeside via Upminster
– 22 bus Aveley to Grays via South Ockendon and Lakeside
Purfleet Station:
– CTC trains (Barking to Grays loop)
– 44 bus Lakeside to Grays
Please note:
You need to choose walks within your capabilities; the walk leaders are experienced but must take your word that you are sufficiently fit for the grade of walk you have chosen.
Walk leaders will be at the start of the walk regardless of the weather. In the unlikely event of any unforeseen circumstances, Thames Chase Trust reserve the right to change or cancel a walk and/or performance. Please check the website www.thameschase.org.uk regularly for any updates or follow Thames Chase or Land of the Fanns on Twitter or Facebook.
Please ensure that you are properly equipped for all walks. The weather can be unpredictable so bring waterproof clothing and/or sun hats and sunscreen and long trousers – it's best to be prepared for everything!
Walking boots/shoes are recommended, but otherwise please wear suitable and comfortable footwear – best to leave open-toe sandals or high heels at home.
Make sure you bring a packed lunch, if necessary, and plenty to drink.
Due care has been exercised in organising the walks, however Thames Chase Trust, the funders and associated partners of the project cannot accept liability for loss, accident or injury caused to any person following the routes.
We will be taking photographs and video of this event to promote and celebrate the project in print and online. If you do not give consent to be photographed or filmed please let a member of the team know on the day.
Participants under the age of 16 must be accompanied by an adult.
The concept of the Forest Circle
Since the Community Forest was first established in 1990, a main aim has been to promote informal access to all the regenerated areas on foot, cycle and horse. The vision was to create an improved rights of way network, particularly footpaths, designed to meet the needs of residents, visitors and landowners.
A strategic network of recreational routes – referred to as Greenways in the Thames Chase Plans –  aims to integrate the safe use of the forest by all local communities and improved connections between public transport networks and the forest's wide variety of landscapes on foot, bike and horse, and to create wildlife corridors remain as important now as it did in 1990..
The concept of the 'Forest Circle' was originated as the core of the Greenway network, comprising approximately……..kilometres encircling and connecting the major areas of the Community Forest. After 30 years of development, the vision of the Forest Circle has been mapped along 8 linier paths by the Thames Chase Volunteer walks team.
Many other walking routes have been mapped by the team to create further long distance Greenway routes through and around the Thames Chase area, along with new circular leisure routes of varying distance. Keeping this strategic network embedded within the green infrastructure policies for the area is a priority for the Trust.
The other feature of the Community Forest's access programme has been the establishment of strategic gateways and hubs that serve the primary road network, urban areas and link with public transport. These are intended to provide access to the Forest via the Greenways network, with some providing for public recreation with a car park, information point, picnic area or perhaps a visitor centre with catering, toilets and interpretation.
In the longer term, Thames Chase Trust aims to provide a fully integrated safe system of Greenway links , hubs and gateways to the landscape whilst maintaining private access rights and linking with  public transport services.
Forest Circle
The eight Forest Circle Walks leaflets can be found at the Thames Chase Forest Centre.
Thames Chase Guided Walks and the Forest Circle are in partnership with Land of the Fanns.
Raising Funds for Thames Chase Trust (Charity Number: 1115627)