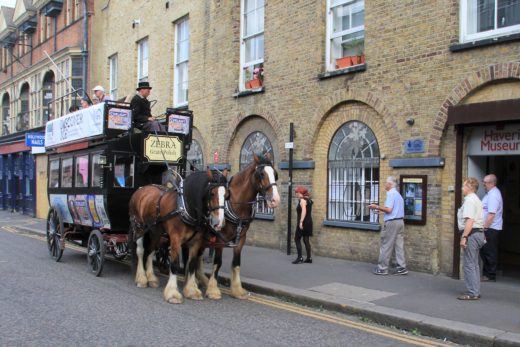 The Discover ME Heritage Horse Drawn Omnibus Tour
A few lucky local residents took a ride of a lifetime one Saturday in July. A shire horse-drawn 1906 omnibus delivered them, as they would have done back in Victorian times, slowly and relaxingly, to several historic locations around Havering.
The horse drawn carriage was a Land of the Fanns event in partnership with the Discover ME project (Discover Metropolitan Essex) to promote the 'hidden gems' of historic buildings in and around Essex and the activities on offer at each one.  And what better way to set the scene than by travelling in a heritage, horse drawn omnibus.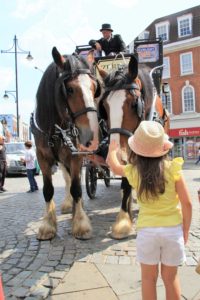 The ride started at the Forestry Commission's Broadfields Community Woodland following the forested pathways around the Thames Chase Visitor Centre.  Having organised the event, I made sure every detail was checked twice over, but misjudged just how high the carriage was in real life.  Not far short of the height of a double decker bus, the people on the open top deck got an experience of life in the tree tops.  A fair amount of wildlife was seen and caught – mainly in our hair and clothes – but everyone saw the funny side and enjoyed the experience.  Enduring the heat wave and sitting on hard, wooden bench seats didn't put anyone off, as those gentle giants, Edward and Stanford, the shire horses, plodded off towards our next venue.
In this modern, fast moving world, there is something very soporific about travelling very slowly. All that is needed is a blue sky sunny day, the sounds of birdsong, a slight breeze brushing your hair and the clop clop of the horse's hooves on tarmac on a day long carriage ride to help untangle all the tensions of our daily lives.
We spent the day visiting the Museum of Nostalgia at the Tithe Barn in Cranham, Havering Museum in Romford and back through Upminster to the Windmill and Old Chapel before returning to Thames Chase.  At each location, an enthusiastic volunteer or museum curator welcomed us and gave the group refreshments, and a tour and talk before boarding the carriage and heading off to our next historic destination.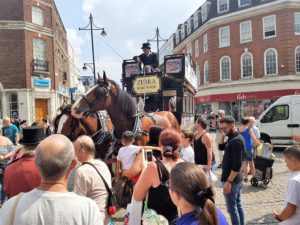 Along the way, crowds of shoppers were open mouthed and waving as the carriage passed by.  Well, I suppose it's not an everyday sight when you are out shopping at Aldi's in downtown Romford.  They waved us on enthusiastically, while car passengers, chancing their luck, were snapping the scene on their smart phones out of their car windows.
When local Havering Councillor, Linda Hawthorn heard about it she said, "We are so lucky to have so much heritage in our borough which are a fantastic source of information.  I encourage everyone to get involved and visit these sites and for local people to enjoy and discover their surroundings''.
After a long, hot but highly interesting day, everyone on board hung around at the end to share out a bucket of carrots to the eagerly awaiting and well deserved stars of the day, the shires horses, Edward and Stanford.
Now… what's that green scaly thing crawling around in my hair…….!
Debbie Brady, Heritage Engagement Officer, Land of the Fanns Landscape Partnership Scheme
For more information on historic sites in Essex, visit discoverme.london
Horse n Carriage supplied, owned and driven by Tim Wood of Tim Wood Carriages
Pictures courtesy of Debbie Brady and Peter Owen