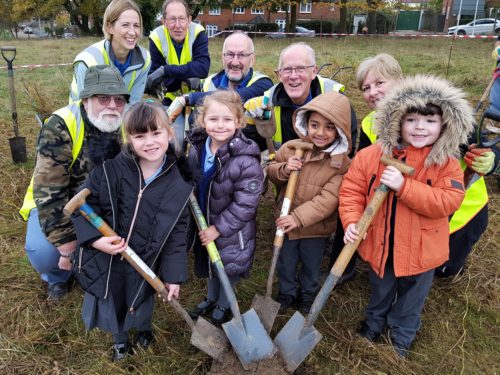 Drapers' Maylands Primary School Adds New Feature
Our outdoor learning area has been transformed with a new wildlife pond. With the Community Action Fund, granted by Land of the Fanns, we have been able to create a living science area where our children will learn about habitats and wildlife in their own school field.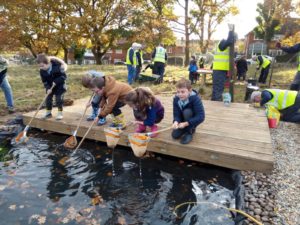 The Thames Chase Conservation Volunteers, led by the talented Becky, spent the last two weeks creating a pond, decking platform, seating area and study table. There is also a picket fence to enclose our wildlife pond. The adult volunteers have been helped by our very willing team of little volunteers, who have dug, planted and helped to fill the pond. The seats and study table were built off-site but the children helped to dig the foundations for each piece.
We cannot wait to use our new area and, as we march on into Spring, we hope to attract the minibeasts and other wildlife into our little haven. Thank you Land of the Fanns and Thames Chase Conservation Volunteers. You have left a legacy for many happy children!
Trudy Spillane
Head Teacher, Drapers' Maylands Primary School, Harold Hill
Drapers' Maylands Primary School were successful applicants in Round 1 of our Community Action Fund.  To find out more about the fund and how to apply, please visit the Community Grants page.