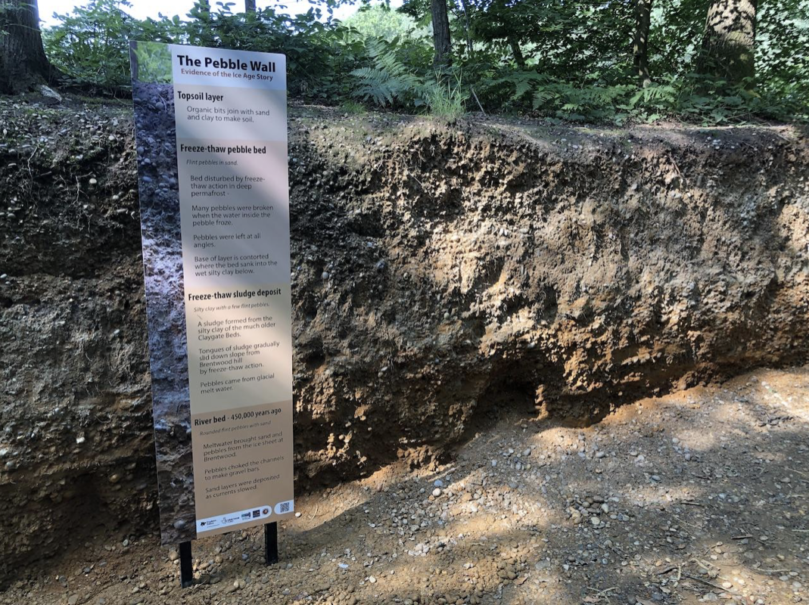 Thorndon Park Ice Age Wall, Jurassic Fossil Tree and Pebble Walk 
A makeover with a Land of the Fanns Community Action Fund Grant.
Thorndon Country Park near Brentwood lies across the northern edge of the Land of the Fanns area. In 2011, members of Essex Rock and Mineral Society, with assistance from Essex County Council who operate the park, dug into the edge of a disused gravel pit in the middle of the park to create a geoconservation 'Ice Age Wall'. Ten years later, it was in need of a good clean and scrape. A three-ton digger did the trick.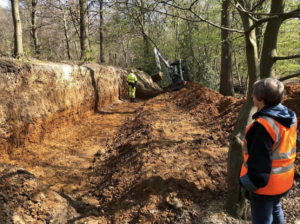 In April 2021 the wall was deepened and lengthened. The base of the wall is full of sand-bars and big flint-cobbles. These were strewn across the area 450,000 years ago. They are 'glacial outwash' – torrential flood gravels out of a vast glacier that nudged up against the hill at Brentwood but came no further south. The floods gouged out deep valleys into the park area and then rushed to the south across the fenland area of the Land of the Fanns. There is an amazing time-story in this landscape.
With the grant from the Land of the Fanns Landscape Partnership Scheme, Ros and Ian Mercer, on behalf of Essex Rock & Mineral Society and GeoEssex, arranged for the renewal of the wall plus a new signboard, together with the re-siting of a Jurassic fossil tree and signboard outside the park's visitor centre, plus waymarks around the whole Pebble Walk. 
The re-made wall has a new signboard to explain its amazing Ice Age story (header image).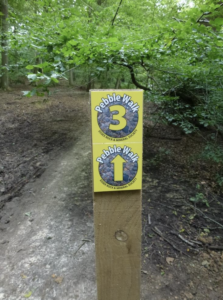 The new Pebble Walk trail has 8 new waymarks, using the key in the trail guide and online with the QR code on the signboards and trail guide.
The fossil tree is very similar to the nearby woodland pines. Dinosaurs once trod between these Jurassic trees on the edge of an island which is now buried 330 m (1000 ft) beneath the park.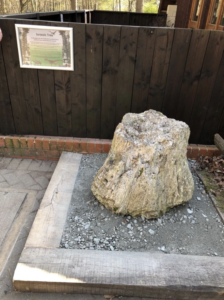 The grant also covered the cost of redesigning and printing the free 'Pebble Walk' trail guide which explains the geology and landscape of the parkland and tells the intriguing story of a flint pebble. Further information is given on the ERMS website.
Ian and Ros have also published Essex Rock, due to be released in June 2022.  You can preorder your copy now.
Ian and Ros Mercer, Essex Rock & Mineral Society