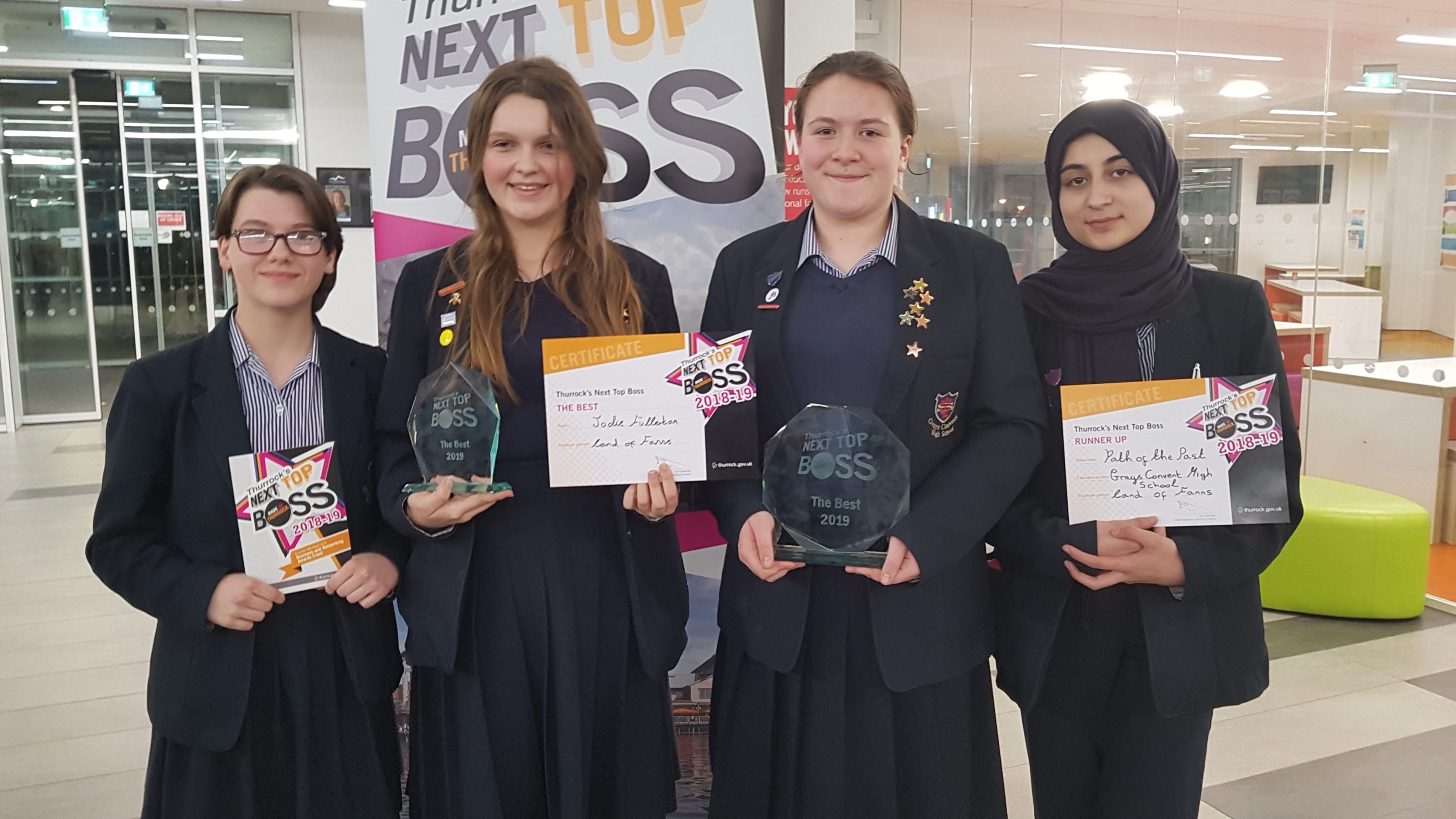 Thurrock's Next Top Boss 2018/2019
Land of the Fanns were the business partner for Grays Convent School on this year's Next Top Boss challenge. Thurrock's Next Top Boss, run by Inspire Thurrock Council, gives young people the chance of working with local employers on real business challenges. Jodie, student at Grays Convent School tells us about her experience…
This year I was lucky enough to take part in the Next Top Boss programme. Many months ago, some visitors came into our school and told us about this amazing opportunity. We had to come up with an idea that shows and promotes heritage in Thurrock. In the first selection process 20 groups, including mine, pitched their idea. Our idea was a trail of tiles, all engraved with memories from local people. We were called the 'Path of the Past' and our project was 'Walk Down Memory Lane'. Six lucky groups were chosen from the 20 and we were one of them. We'd made it through into the next stage.
Over the next few weeks, myself and my colleagues, Abigail, Isobel, Sanna and Paige had to develop our idea and create a pitch that we would present to the Land of the Fanns team (our business partner). When the day came to pitch our ideas, we only had one hour to practice. Our presentation went really well, but so did everyone else's. Debbie Brady and her colleagues then went off and a few minutes later came back to give the result. It felt like we were waiting for hours but then our group was called out. We were all so happy.
Over the next few weeks, we met with Debbie and Emma from Thurrock Inspire, to discuss how to progress in the competition. We thought of many ideas and Debbie set us up with many amazing opportunities. We got to meet with the Highway Manager at the Thurrock Council Offices. We pitched our idea and they were really helpful giving us constructive criticism and when we left we re-evaluated our plan.
We decided that since the project had to be completed in under a year, and digging up the ground to install tiles would take longer than that, we would use the same idea but instead of using tiles, we would create a booklet. With Mrs Johnson's help, our amazing Headteacher, we decided to broaden our market and as well as making the walk for only the public, we could make a work booklet filled with activities and fun facts. This booklet would be given to all 21 Primary Schools in the Borough and we could do a guided walk for them that fitted into their history curriculum.
To develop our booklets, we met with Mrs Johnson many times. She set up many meetings for us. To begin, we went to interview some very amazing and inspirational residents from the Bluebell Court retirement home. We received so many amazing memories and quotes from them which we could include in our booklet. We also met up with the Headteacher from St. Thomas of Canterbury School to check that our idea would fit into the history curriculum. After our meeting with her, Mrs Johnson arranged a meeting with Sue Yates, who works at the Thurrock Local History Society. She gave us many materials, pictures and memories of Thurrock. We were allowed to go into the sorting room and museum where we could look through old newspapers and pictures for our booklet. We also walked through Grays and Sue told us about all of the buildings and their history.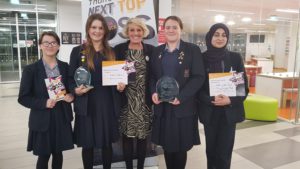 We received quite a few quotes from our parents as well through emails and messages on our social media about other people's memories. When we had collected all of the data, we got to work. It took many hours of hard work, blood, sweat and tears, but eventually, we had made a booklet and work book to submit to the competition.
A few weeks later, Yvonne Evans (Employer Engagement Support Officer, Thurrock Council) and a videographer met with us to record and film our presentation. They took all of our plans, photos, evidence, PowerPoint, scripts, etc. that we had to build up a portfolio to submit to the judges.
On the 28 March 2019, we were invited to the awards evening at the Thurrock campus of South Essex College. When we arrived there was lots of food, a magician and it was all great fun. We went into the auditorium and took our seats. We were all nervous. We sat and waited. Then the individual awards were announced, and I had won the best in group award! I was so happy. The group runners up were announced and it was us – we came second! We were all so happy. All of the hard work was worth it. When we went up to collect our award, Debbie stopped us and told us that even though we did not win Next Top Boss, our application for funding from the Land of the Fanns to carry out the project had been accepted. We will now carry our project out! We have all enjoyed this opportunity so much and we cannot wait to watch our idea come to life.
Jodie Fullerton
Grays Convent High School