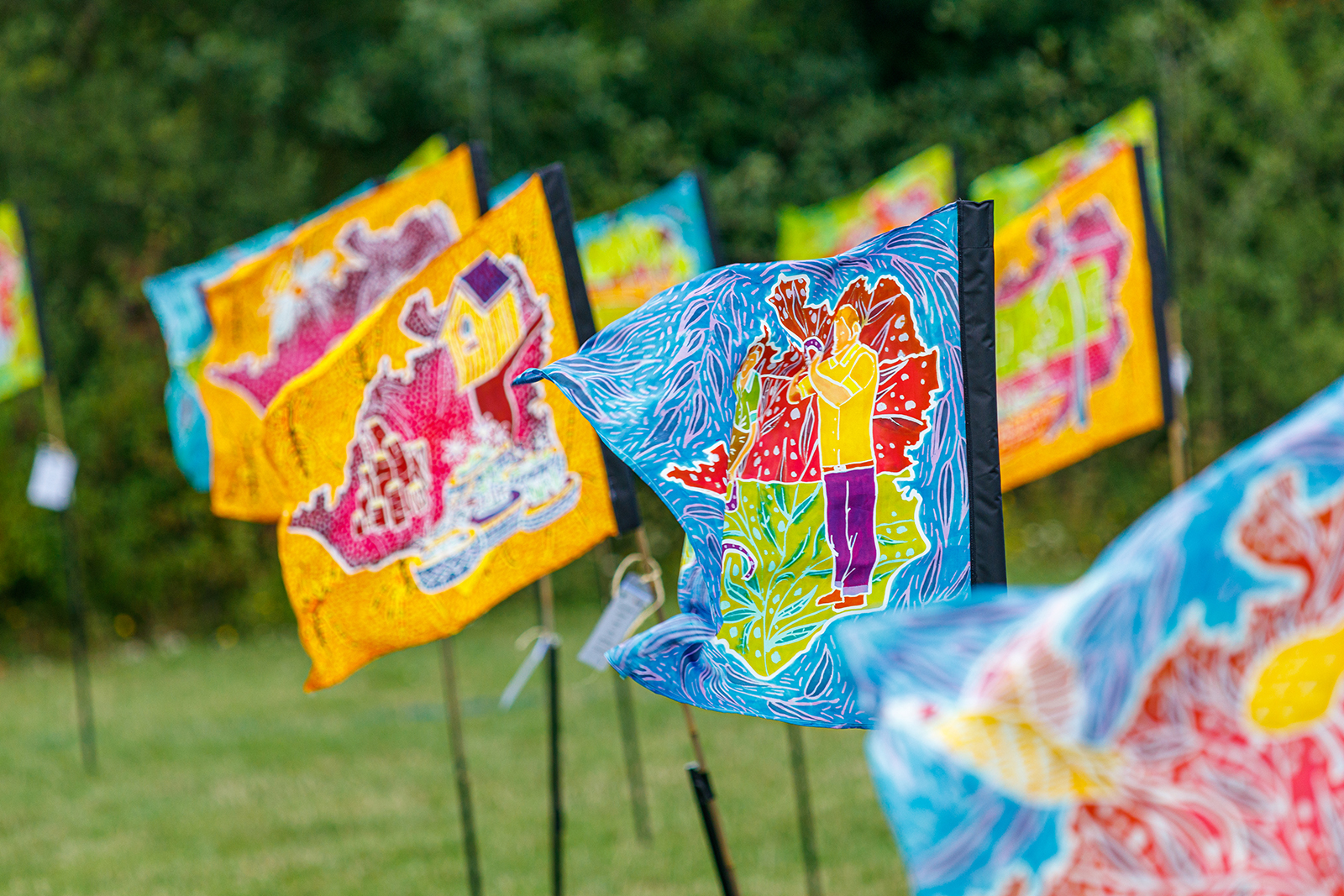 100 flags fly at Thames Chase to celebrate the Land of the Fanns
Flags depicting stories, histories, characters and places make spectacle for visitors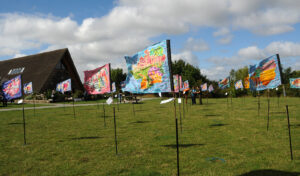 Visitors to Thames Chase Forest Centre were treated to a beautiful spectacle on Sunday 30 August as 100 flags flew in the sunshine. The Land of the Fanns Landscape Partnership Scheme displayed the colourful silk flags created with arts organisation Kinetika, which illustrate stories gathered from across the Land of the Fanns and have been designed and painted by communities across the area with support from Kinetika artists.
Kinetika worked with communities to involve them in the design and painting of the flags during lockdown. The Land of the Fanns spans the boroughs of Havering and Barking & Dagenham, Brentwood, Thurrock and into Essex. It is a landscape rich in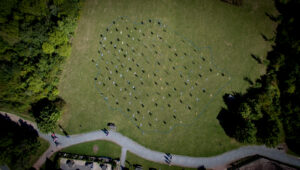 history and hidden gems but often overlooked. Kinetika led walks and workshops across the area in 2019 and early 2020 to gather the local stories, commom histories and memories that represent a people's history and community map of the Land of the Fanns, revealing ghosts, local heroes and natural wonders.
Benjamin Sanderson, Land of the Fanns Scheme Manager said "It was great to see the flags on display and the pride people had in their artwork. The project's been a real team effort supported by superb artists from the local community, overcoming obstacles presented by lockdown. I would recommend anyone to find out more about the stories and flags on the Land of the Fanns website at www.landofthefanns.org/100-stories/"
Mary Wright, Trustee at Thames Chase Trust said "It was amazing to see the hundred flags fluttering in the breeze on the meadow of Thames Chase Forest Centre.  It is a unique way of telling the stories of this historic landscape covering the remaining east London fenland.  The Land of the Fanns project has helped to bring the area of the Community Forest and beyond alive, further regenerating the landscape and its heritage for the 650,000 people who live in or close to its boundary. The flags and stories are a remarkable way for local communities to learn about and enjoy their local area."
To view the full list of stories, click here.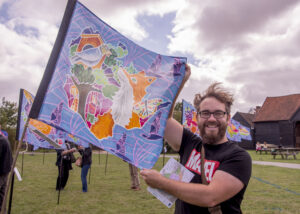 Feature photo: John Hastings