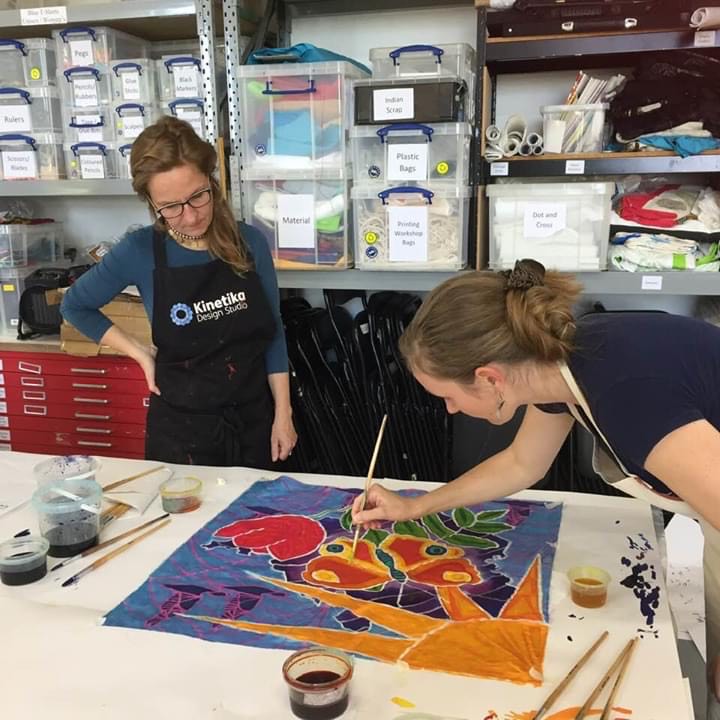 During 2019 and into 2020, Kinetika led walks across the Land of the Fanns and a series of creative workshops for people to record their stories of local places that had special significance, important characters from the community and those everyday stories that are so familiar as to become forgotten as the important social and community history they contain. More than 100 stories have been collected and now represent a people's history and community map of the Land of the Fanns.
Working remotely, the company was able to continue working with and engaging people all during lockdown to get designs for the flags completed, delivering creative packs with materials to anyone needing supplies.
Artists from Kinetika scaled up the designs produced by the workshop participants and walkers for a series of flags for the Land of the Fanns which feature the 100 stories.
The silk flags have been waxed, painted and cleaned ready for your enjoyment.
For the map of the 100 Stories click here.
List of 100 Stories:
Belhus Lowland Quarry Farmland 
1. Making of the Little Belhus Country Park, Rural Arisings
2. Creating Wildlife Habitats
3. Aggregates, re-use of ceramics and rubble to create wildlife areas
4. Connecting to the community, wind turbine, school playing fields
5. Upminster to Grays: The Ockendon Branch
6. Flowers Estate: South Ockendon
7. Oak Wood and Ash Plantation, Belhus
8. Little Belhus House in South Ockendon
9. Long Pond and the Eel
10. The Stench Pipe, Belhus Woods
Brentwood Wooded Hills 
11. Thorndon Park: Ghosts and Gardens
12. Reflection
13. Menagerie Wood
14. Breaking the Ice
15. Miss Willmott's Ghost
Dagenham Corridor 
16. The Bridge
17. Land of the Fanns Characters: Beam Valley Country Park
18. The Black Poplar
19. Land of the Fanns Trees (Eastbrookend Country Park, Beam Valley Country Park, and The Chase)
20. The Curator of Valence House Museum
21. Mr May
22. Mrs May
23. Walking and Talking, Havering Walking for Health Group
24. Jerome – The Ranger
25. Story of Eastbrookend Country Park
26. Jerome's memory of the river
27. The Kingfisher Cafe, Eastbrookend Discovery Centre
28. The Kingfisher costume character
29. Early 20th Century Gravel Digger
Havering Wooded Hills
30. Brambles to beetroots
31. Does the Soil Hold Memories
32. Pemberton Family History
33. Charles Heaton Ellis costume
34. Annie Vagg: Gardener's Wife costume
35. The Stag on the hill
Ingrebourne Valley
36. The Making of Pages Wood
37. The Tree Species of Pages Wood
38. A Place We Call Home: Harold Wood Running Club
39. The Harrow, Hornchurch
40. Hornchurch Cottage Home for Children
41. The Marriage of Emilie Helena Holmes
42. The Hornchurch Bellringer's Jugs and the Cove Brickworks
43. Fifty years of visiting Harrow Lodge Park
44. Buster's Ostrich
45. A Hornchurch Ghost
46. Langtons House Timeline
47. Hornchurch Country Park and the First World War
48. Flora and fauna of the park
49. Ingrebourne Valley and the Marshes
50. Water Vole
51. Around the Edge
Langdon Hills and Farmland
52. A walk over the hills in April 2020
53. Freya
54. Santa in the Woods
55. Tree Dressing
56. A Child of the Woods
57. Langdon Hills
58. Langdon Hills and the Orchids of Great Berry Recreation Ground
59. Woodsman
60. Plotlands: Escape the Blitz
Mardyke Valley
61. Landscape: The Fen Mardyke
62. The Pumping Station
63. 13th Century Pilgrim
Orsett Lowland Farmland
64. A Female Miller
65. Colonel Whitmore's Chest
66. South Essex Wildlife Hospital
Rainham, Aveley and West Thurrock Marshes
67. Snowdrops at Rainham Hall
68. Rainham Hall Community Garden
69. Captain Harle's Hall
70. The Spirit of Captain Harle
71. Travelling Through Time at Rainham Hall
72. The Beauty of Rainham Hall
73. Spellbound Grandchildren
74. White Fruits
75. Rainham Hall
76. Rainham Hall Gardens
77. Grafitti Wall: Grays to St Clements
78. The Green Frogs RSPB Rainham Marshes
79. RSPB Rainham Marshes
80. Mike Ostler's River Path
81. Captain Grantham
82. Mrs Grantham
83. Slimy Pumpkin
84. A Prickly Experience
85. Rainham's Diamond
Thurrock Reclaimed Fen
86. The Bulphan Hermit
87. The Hauntings at Garlesters Farmhouse
88. Quoits on Bulphan Fen
89. Other people from the Harrow
90. How Grandfather came to Orsett Fen
91. A lovely day
92. A Few Words From Tom
93. The Flooded Fen
94. Bulphan Oddments
95. Conservation and Gamekeeping
96. The Stone Hall Story
97. 18th Century Farmer 'Burt'
98. Hedge laying
West Thurrock Quarry
99. Wild Orchids
100. Chafford Gorge