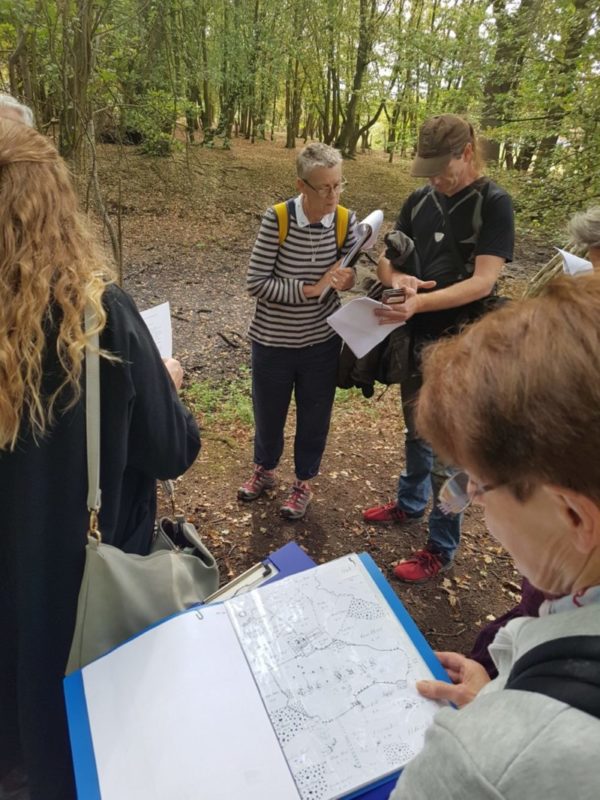 A Winters Tale – Land of the Fanns Heritage Projects
A busy winter saw the heritage projects progressing with new volunteers who joined several training courses and events.  Many parks and open spaces in this area have historic landscape features, many by Humphry Repton and Capability Brown, so by engaging with Essex Gardens Trust, and their enthusiastic  tutor, Twigs Way, we encouraged ten volunteers to come on our Know It! Love It! Historical Designed Landscapes course over the winter months. They visited Warley Place, Belhus Park, the golf course at Thorndon Country Park and Dagnam Park, where the volunteers were trained to 'read' and record historical landscape forms and features, and then to report and highlight the significance to the landscape.
Following these initial training sessions, the early January months saw this enthusiastic group put their training to good use by seeking out other landscape features, 55 in total, in our 11 character landscape areas covering the Land of the Fanns (LotF) scheme. This included another follow up course of GIS map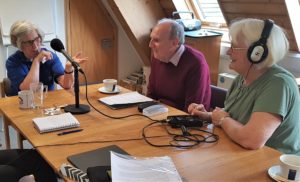 ping. So by the end of this year (2020) they would have gathered and reported on all these features that they have individually chosen and will use the information gathered, not only to highlight these features on a digital map, but also to produce 'statements of significance' . These will be archived with local councils, Essex Gardens Trust and Thames Chase Trust, and help bring awareness of the historical value of this landscape.
Engaging and enthusing the public about the heritage, biodiversity and landscape starts with the young. Our school travel fund started up in January, where we are funding the cost of school travel so that children get the opportunity to visit these wonderful outdoor sites in Havering, Barking and Dagenham, Thurrock and Brentwood. Our own research has shown that so many children are denied visiting these outdoor educational sites due to the additional cost of coach and bus hire.  With our offer of funding we are receiving a steady stream of applications for our school travel fund. To find out more and if your school would like to apply, visit our school travel fund page for an application form.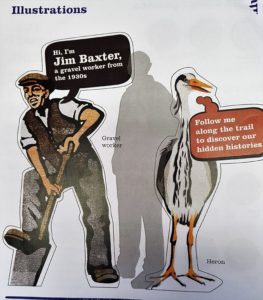 Another fantastic project to help promote legacy started this winter, by setting up a volunteer group to carry out an oral history project to record the wonderful stories held by the local, elderly population in this area.  An experienced volunteer who had carried out a similar project at Rainham Hall, Patti Plested, trained up other volunteers in interviewing techniques and using recording equipment and is sending them out to record and interview  people and transcribe their wonderful stories linked to the LotF interpretative themes of, 'a crossroads landscape',  its historical use as farmland, fens and forest and links to its importance during both World Wars. After gathering many of these stories, we intend to archive the material with Thames Chase Trust and The British Library. 
Exciting times this winter  for our 'gateway site's across the LotF area. They are beginning to deliver on their interpretation plans. All the sites have fascinating histories and this will be delivered through historical human or wildlife characters to creatively engage the public through storytelling, or as media images.  
So as winter recedes and we turn the corner into Spring, there are plenty of plans, projects and training coming up for 2020. These include: seeing the interpretative characters come to life through arts group Kinetika and drama group CocoLoco, who will be delivering a series of community  walks and storytelling performances at some of our country parks and open spaces; the Travelling Archaeology Display will be on tour again; more training events; a community archaeological dig on the foreshores of the Thames at the Mardyke estuary in September and much, much more… 
To register interest in our community dig on the Mardyke Estuary  in September 2020 contact: deborah.brady@thameschase.org.uk