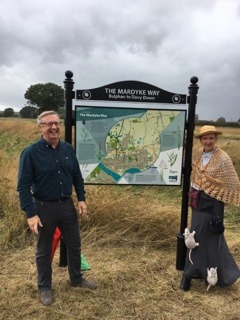 Mardyke Way, Bulphan: new sign unveiled by the Bulphan Hermit
Thanks to the National Lottery Heritage Fund, the Land of the Fanns and funds from our community cafe, Bulphan villagers are celebrating the installation of their new sign to mark the beginning of the Mardyke Way*.
…..and this is who unveiled it: Mrs Clarinda Richards. Born in 1841 and known as the Bulphan Hermit as she lived in a shack on the Fen, near this sign, and saw off council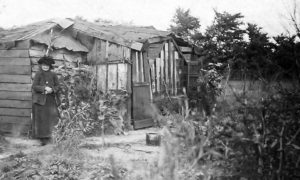 officials (who tried to re-house her) with her late husband's army revolver – she was imprisoned in Holloway for a couple of weeks for that.
Here she is outside her lovely home on the Fen. She shared her shack with rats, but lived a long and healthy life! She was the great-niece of Joshua Reynolds, the famous portrait painter and had been a bit of an artist herself. She eked out a living from her Artists' Benevolent Fund pension and selling vegetables and duck eggs to passersby.
* The Mardyke Way is a 7-mile footpath alongside the Mardyke from Aveley to Bulphan. It was opened in 2007 as part of the Thames Chase Community Forest. The name Mardyke means boundary ditch: the main tributary rises between Great and Little Warley, and the river runs into the Thames at Purfleet.
Janet McCheyne
Chair, Bulphan Village Community Forum