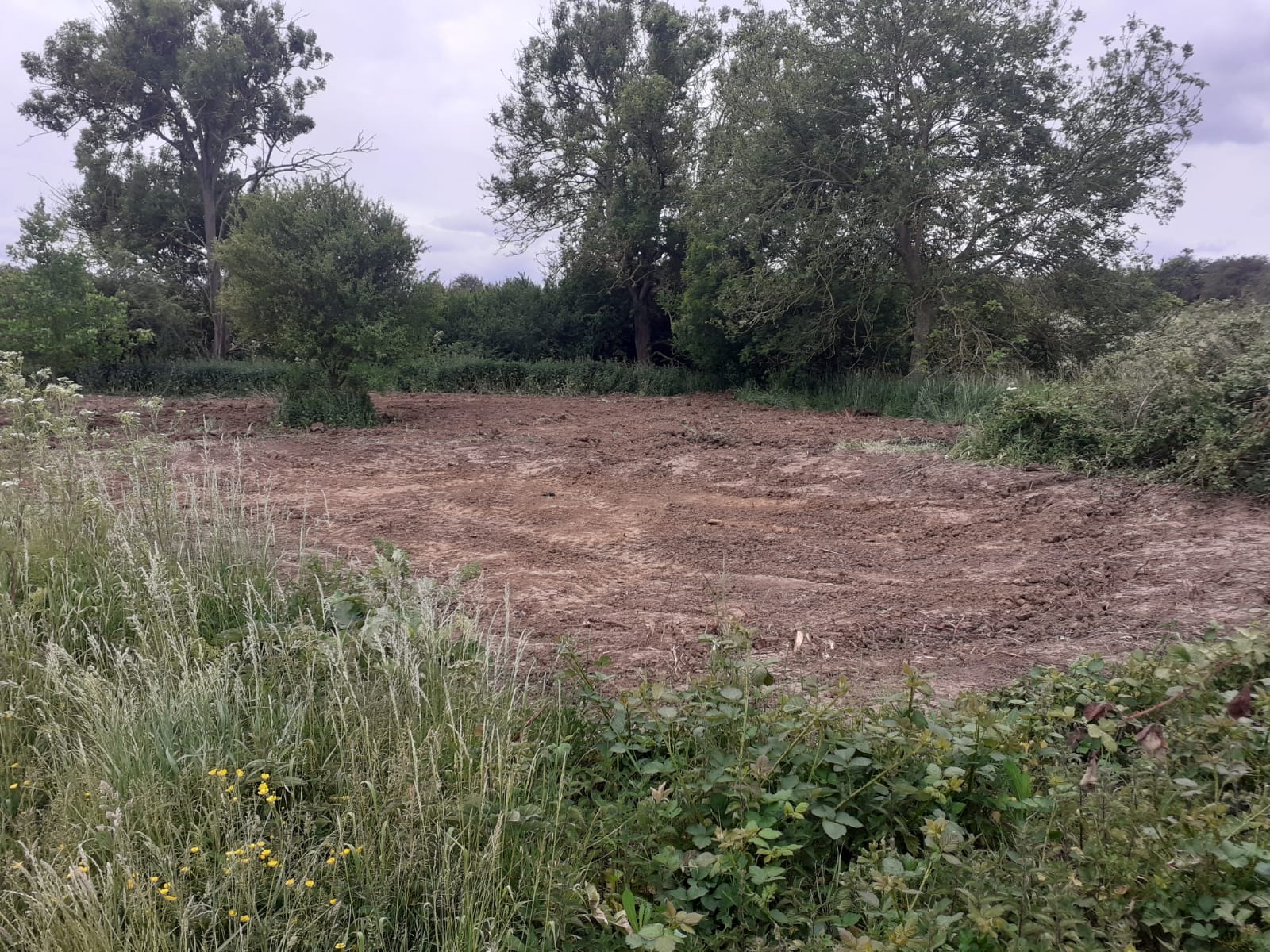 Land of the Fanns works with Thames 21 and Forestry England at Pages Wood
The Land of the Fanns Landscape Partnership Scheme has been able to keep certain projects running over the lockdown with the help of partners and, as that now begins to ease, there is lots to report on such as the developments at Pages Wood.
Pages Wood is a Forestry England site in Harold Wood in the borough of Havering. Its 74 hectares offer a variety of habitats for both wildlife and people, with a mosaic of forest, wetland and river habitats. The charity Thames 21 in partnership with Land of the Fanns and Forestry England, have been working to enhance its wetland habitats. While government restrictions have prevented volunteer events from taking place, it has been able to continue working on enhancements using contractors.
A series of new wetland scrapes have been created on the floodplain of the River Ingrebourne. A wetland scrape is a slight depression in the land with very gentle sloping sides, which collects and holds rain and flood water. They help support a more varied habitat of wetland grasses and meadows, enhancing the freshwater ecosystem at Pages Wood and creating new habitats for many creatures which live on land, in the water or on the wing, such as wading birds, which use wetlands for feeding and breeding.
Alongside this a series of three ponds have been created. The aim of which is to hold water on the floodplain, slowing water as it moves downstream. Ponds are very important habitats, with two thirds of freshwater species being supported by pond habitats. More than 50% of the UK's pond habitats were lost in the 20th century, so this work is very important in restoring these vital habitats.
Quote from Thames 21 – 'We hope many people will come to Pages Wood and watch as these important new habitats develop and grow over the summer. The wood's 100, 000 trees and excellent views make it a great place to walk and cycle. Now it is a better site too for wildlife.'
Benjamin Sanderson, Land of the Fanns Scheme Manager said: 'The work at Pages Wood is a brilliant example of the partnership work that is happening as part of the Land of the Fanns Landscape Partnership Scheme, even during lockdown. Thanks to a great team effort and fundingfrom the National Lottery Heritage Fund, Thames Water and Forestry England, these improvements will hopefully transform and improve wetland habitats as these newly created areas begin to re-establish with vegetation.'
Created wetland scrape (photo 8th June 2020)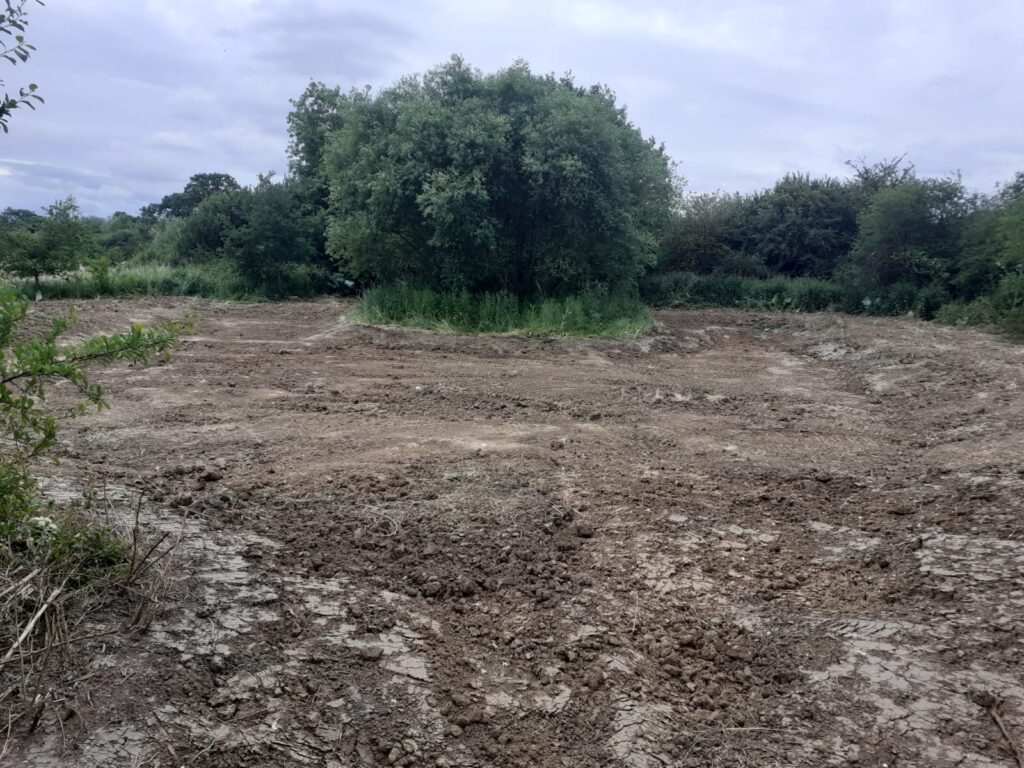 Wetland scrape self seeding after a few weeks (photo 21st July 2020)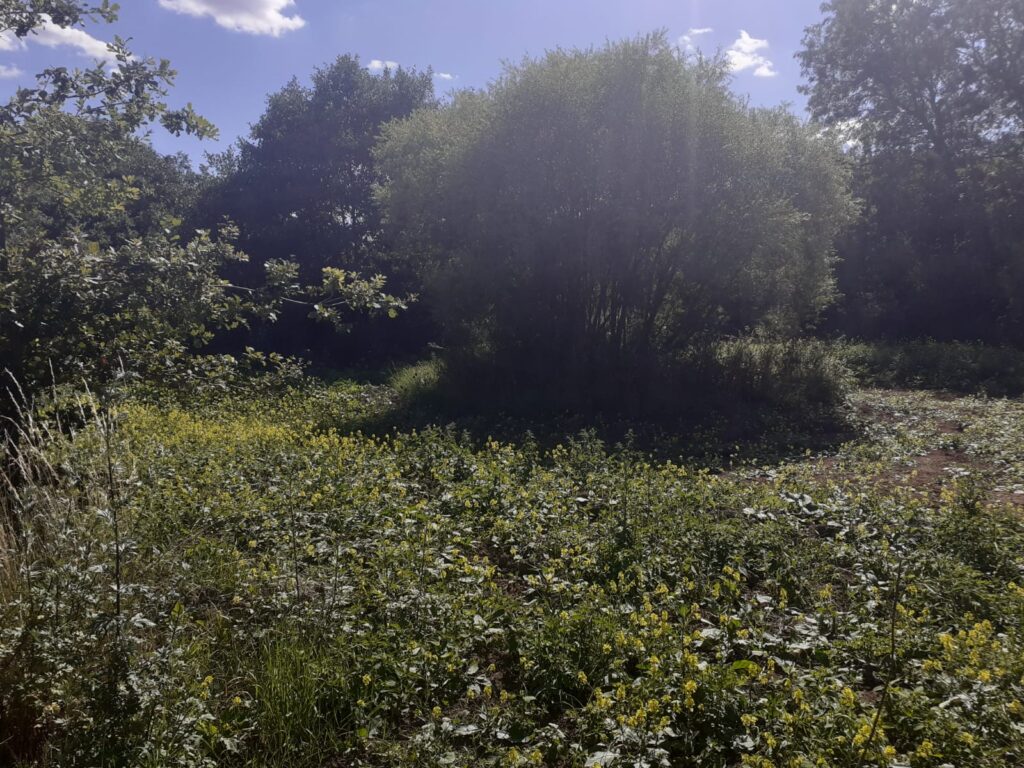 Digger in action (photo 8th June 2020)