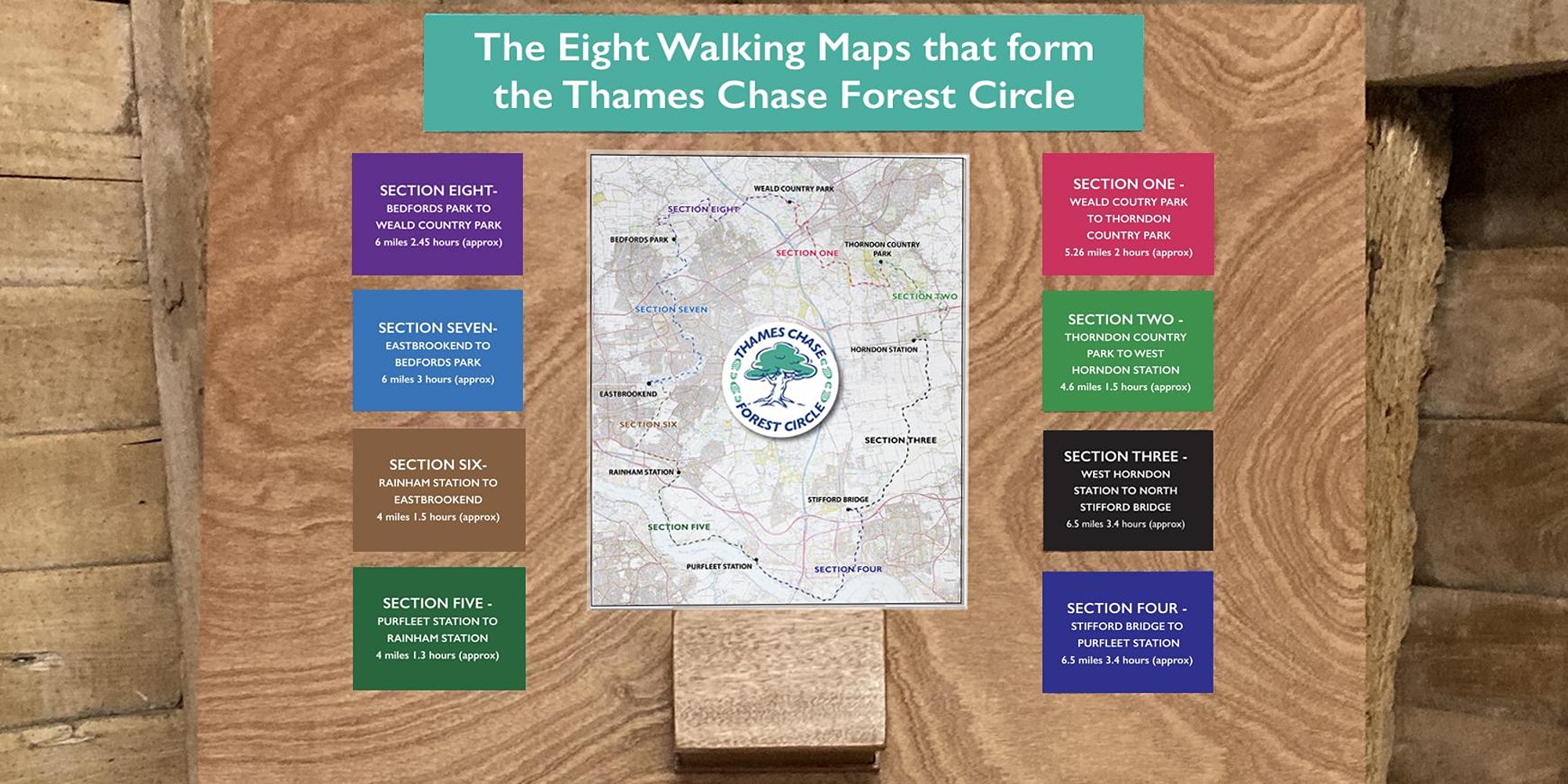 43 mile Forest Circle launches with a special walk event
A 43 mile Forest Circle of 8 linear paths has been mapped by the Thames Chase Volunteer walks team in partnership with the Land of the Fanns Landscape Partnership Scheme.  
The Forest Circle will launch with a special walk event open to all on Saturday 9th October. Visitors can join the group walking Section 3 of the Forest Circle between West Horndon Station, along the River Mardyke to North Stifford Bridge. The 6.5 mile walk led by Ian Seabrook starts at 10.30am, and is anticipated to last approx 3-4 hours.   
The vision of the Forest Circle originated over 30 years ago, when the Community Forest was first established in 1990, with a principal aim to promote informal access to all regenerated areas on foot, cycle and horse. The vision was to create an improved rights of way network, particularly footpaths, designed to meet the needs of residents, visitors and landowners.
A strategic network of recreational routes – referred to as Greenways in the Thames Chase Plan – aimed to integrate the safe use of the forest by all local communities and improved connections between public transport networks and the forest's wide variety of landscapes on foot, bike and horse, and to create wildlife corridors. These aims remain as important now as they were in 1990.
The concept of the 'Forest Circle' originated as the core of the Greenway network, comprising over 40 miles encircling and connecting the major areas of the Community Forest.    
Many other walking routes have also been mapped by the team to create further long distance Greenway routes through and around the Thames Chase area, along with new circular leisure routes of varying distance. 
In the longer term, Thames Chase Trust aims to provide a fully integrated safe system of Greenway links, hubs and gateways to the landscape whilst maintaining private access rights and linking with public transport services.
Mary Wright, Co-Chair of the Trust comments: "The forest circle has been a long term aim for Thames Chase that has been achieved by a dedicated team of volunteers who are to be congratulated in producing a set of clear and informative walks guides."  
The Forest Circle launch walk event is open to all, and is just a £3 donation to attend. To book your space visit: https://www.eventbrite.co.uk/e/thames-chase-forest-circle-walk-section-3-tickets-177343718837?aff=erelexpmlt, £3 donation. If you can't attend or would like to find out more, the 8 Forest Circle Walks leaflets, produced in partnership with Land of the Fanns, can be found at the Thames Chase Forest Centre in Upminster. 
Thames Chase Walking Leaflets Checklist
Over 20 walking routes have been researched and mapped by Thames Chase Volunteers including destination, circular and Forest Circle walks. Great care has been taken in creating these leaflets to ensure they are accurate, easy to follow and provide useful information. However sometimes things can get missed or there are changes in the route since the leaflet was first created.
We would value your comments on any walks leaflets you have used so that we can keep the leaflets up to date. All of the leaflets can be found at Thames Chase Forest Centre.
Please send this completed form to enquiries@thameschase.org.uk. Thank you.